Home Improvement Industry Customer Obsession Cheat Guide
Forrester research commissioned by Goodays, featuring expert opinions from Steve Collinge & leader profiles of IKEA, Blue Diamond and Screwfix.
39% of HQ teams and 38% of front-line staff have said that they do not listen to the voice of the customer in real-time.
Within a challenging landscape such as digitalisation and e-commerce, customers have a lot of alternatives to choose from when a brand doesn't meet their expectations.
So how do you differentiate yourself from the competition and succeed in the long term?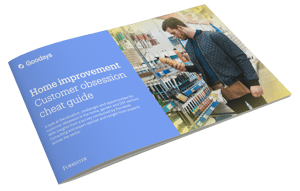 Understand why the DIY, home and garden industries need to become customer-obsessed.

See why DIY, home and garden industry behemoths Ikea, Blue Diamond, and Screwfix are named as our top 3 leaders.

Find out how Blue Diamond and Goodays are empowering store teams to transform into a more proactive approach.
Discover the DIY secrets for becoming customer obsessed
150+ companies worldwide use Goodays every day