How to calculate the ROI of CX?
CX is finally gaining the attention it deserves with 89% of companies expecting to compete mostly of the basis of Customer Experience according to Gartner.

But we find there's still a gap around the investment in CX due to the underlying difficulty to articulate the ROI of CX initiatives and get executive buy-in.
This session will arm you with the tools you need:
A comprehensive overview of the steps needed to calculate your ROI.

The key step - how to evaluate your current CX maturity

How to put into place an effective measurement program

PRESENTED BY: Hazel Morton -UK Marketing
A strong advocate of customer-centricity throughout her career, Hazel has recently joined the expanding Critizr team in London. Named within CX Networks 30 under 30 and formally the CMO of Big Data for Humans, her consistent exposure to the issues retailers face in the current climate, both as a customer and an advocate, has made her hyperaware of the importance of CX. Hazel's realisation that most businesses fail to successfully measure the effect of successful CX against business objectives drove her to promote closing the engagement and marketing loop.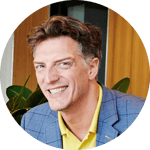 PRESENTED BY: Sebastien Riolo -Senior Customer Success Manager
A customer experience specialist with over 15 years' experience in operations and project management, Sebastien leads Critizr UK's customer success strategy. Formerly a client partner at Satmetrix UK, he specialises in operational and technical aspects of the platform. Read his recent article on Retail Week: How to measure satisfaction in the new retail age
Ready for a customer experience revolution?
500+ companies worldwide use Goodays every day