Back
A new channel to connect with your customers: Google's Business Messages

Aurélien Dubot
As channels and consumer habits evolve constantly, brands must adapt to stay relevant and present where their customers are.
We're excited by this innovation that is set to further empower consumers to interact with brands in a way that is more local, more personal and more relevant.
With the availability of Google's Business Messages, consumers can now send messages to businesses directly from the Google search results and Google Maps. They will expect relevant, personalised responses.
Critizr had the pleasure of being an early partner on Google's Business Messages in Europe, giving us the opportunity to help our clients launch their program, respond to customers and optimise their approach to make the most of this new channel.
Creating conversations between brands' local teams and their customers has always been a cornerstone of Critizr's solutions. It gets the store teams to rally around customer experience, it fosters a CX routine across the organisation. Indeed, hearing from and responding to customers every day keeps your teams in touch with their expectations, the things that delight them, the small things that can continuously be improved. And who is better positioned to delight your customers than the people who deliver retail experiences to them, every day? In addition, the contact with the customer builds meaning for your store teams. They love being part of your brand in this manner.
Our belief in the value of conversations, of the proximity with customers, got us immediately excited by Google's Business Messages. It's a game-changer and that's why we're excited to be a part of Google's partner program for this innovation.
What's new?
Customers can now get in contact with businesses, directly from the Google search results in real-time. By clicking on the "Message" icon on the store's details on Google, consumers can get in touch with the team to start a conversation.
To the user, this looks like many of the other popular messaging apps but with the added perk that they can talk to their favourite (or soon to be favourite) local stores. This is a great opportunity for brands to engage prospective customers and do so in a way that is fresh, truly interactive and rewarding. Businesses can answer questions, provide suggestions, advice, locally relevant information and ultimately attract more customers to their business.
A new channel, shall I go first?
Traditionally, taking advantage of every popular communication channel with the customer is a must-do. Leading brands and experts (including us) have been pushing for omnichannel for years. It's proven to pay off. But in this case, brands would rightly think that it's not that simple as they have to balance the pros and the cons.
The benefits of Google Business Messages:
Convenient for the customer: it's substantially easier to send a quick message instead of calling and being put on hold or being transferred left and right. You give them the option to interact with your business without switching context, without jumping from an app to a website to a phone call...
Personal and relevant: using this functionality, consumers can get in contact with their local teams and get answers that are relevant from the shop near them. This level of connection only elevates the customer experience to create loyalty.
Insightful for your local teams: with this direct contact with the customer, you get a better understanding of the topics they are interested in when they browse search engines for your business. This is a unique opportunity to learn about ways to improve the experience locally. Are they constantly asking about accessible parking? Gluten-free options? Kid's zone? Social distancing masures in place?
The challenges of Google Business Messages:
Conversational: be ready to have a conversation with your customers. When looking at our clients who have implemented this functionality, it is clear from the type of questions received that you will require a real exchange between your business and the customer. It is not something that a customer service script can address easily. Be ready to involve your store teams.
Your availability: whilst customers will not expect to be able to reach your store over the phone outside of business hours, they will be able to message you at a time that is convenient to them and they will expect a timely response. Your teams could wake up to a handful of messages they need to respond to at the start of the day. Evaluating the volume and setting expectations is important.
We had the pleasure of being one of the early partners on Business Messages and as such had the opportunity to help a variety of retailers launch, respond to messages, and optimise their program. The benefits are real, palpable and numerous if you do it right by involving the local teams and creating a routine around CX. In addition, you multiply the advantages when you combine this with the management of other customer contact points such as customer feedback, suggestions, questions and issues coming from other channels.
It's all about the experience
Whether it is in-store, customer service, online shopping, or product, today's consumers expect a lot more from the experience that they used to 5 years ago. This brings customer experience to the top of the decision tree when determining whether or not the customer will decide to keep doing business with you. Combine this with the fast-paced culture that is enabled by digital and you have the perfect setting for business messaging.
Consumers require rapid, relevant, personal answers. They want to engage quickly and easily with the brand, even when it pertains to stores. With heightened expectations, they will turn to the brand that can connect with them in a way that is meaningful, relevant and in the channel they prefer.
But it's not just about impatience and expectations. It's also about forming stronger relationships. Consumers who regularly engage with brands online also purchase more and are more loyal. Building on the importance for you to actively manage your online presence.
Consumers are demanding convenience, relevance and personalisation, and Google's Business Messages allies these three with the local to make your stores stronger by helping you drive more conversions and increasing loyalty.
Convinced? Here are a handful of tips to make it a success
Make it local
When customers contact your business via Google' Business Messages, they expect to be in contact with your local store. They are not contacting you via the generic live chat on your website. As a result, the type of engagements you will have with them via this channel will require local insights and context. The traditional customer service script will not work. This is about teamwork: rally your local teams around the customer experience. They interact with your customers on a day-to-day basis and are best placed to pick up these local conversations.
And if you haven't done so, it is also the opportunity to get your local teams involved with other types of conversations from other channels: post-purchase customer feedback, questions, suggestions and issues. Keep it simple for your teams with an interface built for them, with all the channels in one place, including collaboration and response tools.
The retailers we have supported to deploy this program have all identified this point very early and used their local teams from day 1. This was expected as they all use the Critizr platform as a multi-channel, single interface hub that enables their store teams to converse with their customers at every stage of the customer journey, be it feedback post store visit, suggestions, or problem resolution. It was hence natural for their team to use this new channel via a single, unified interface that is already familiar. Nonetheless, the analysis of the conversations sparked by Google's Business Messages confirmed the personal and local nature of the channel.
Be a person and a business
Your customers will interact with you within a beautiful interface that looks similar to the messaging apps they use to talk to their friends. Remain professional and on-brand, but break down the barriers, be personable. Your customers will love it if you make them feel like they are talking to a person. Introduce yourself ("Hi, I'm David, store manager at ..."). Tailor the message and be attentive to the words that they are using, don't use corporate jargon.
Be prompt when responding
If you haven't yet built the muscle of responding quickly to customers in your organisation, now is the perfect time to do so. With feedback, questions, suggestions, and customer issues, it's always good practice to incentivise your local team to reply reasonably fast and to provide good answers. With Google's Business Messages, it is just as important to reply rapidly. Try to respond within one-hour maximum when you're open.
Google will also post your usual response time, so this should be an additional incentive to reply promptly.
Keep sensitive data out
Indeed, information sent by the customer through Google's Business Messages is not encrypted, so you should be mindful about what you ask from the customer. Debit cards, government ID, account ID, and financial information are a "no". Any sensitive information should always be handled through your usual secured channels.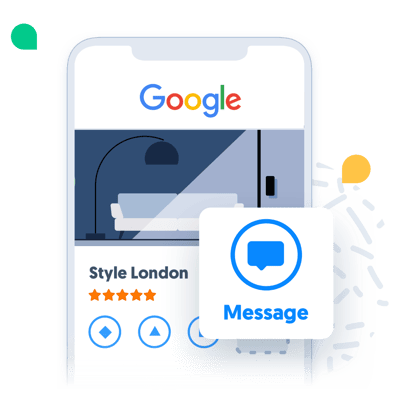 Excited to get started?
We are excited to see Google releasing this functionality more broadly to the retail world. Being an early member of the Google Partner program for this innovation, we had the pleasure of seeing our early adopter clients derive the benefits of this new channel.
If you are intrigued but need a bit of help getting started and harmonising it with your other local conversation channels, get in touch. We'll be happy to help you engage with your customers and establish the CX routine at your company.
We have extensive experience connecting brands' local store teams directly with their customers to increase loyalty and generate more sales. Our unique approach that creates a real partnership between the HQ teams and the local teams accelerates the transition to a customer-wide CX culture.
Sign up for our newsletter
Hear about our upcoming events and read the latest success stories from our clients.