Back
Collecting Customer Feedback via Social Networks

Laura Spitz
Marketing Manager - France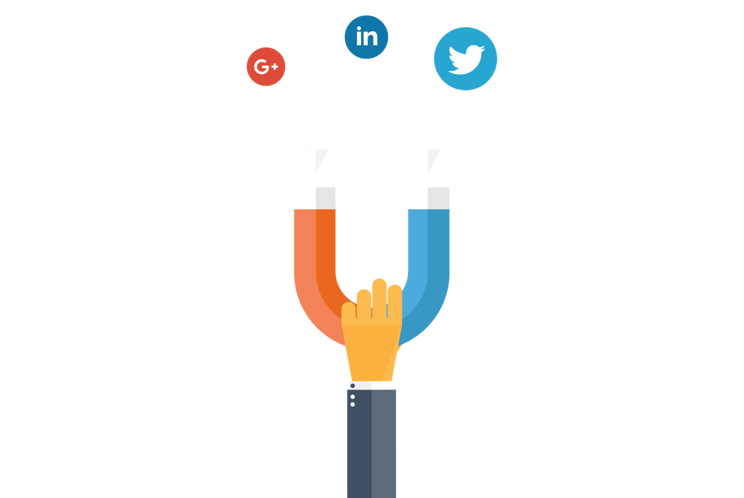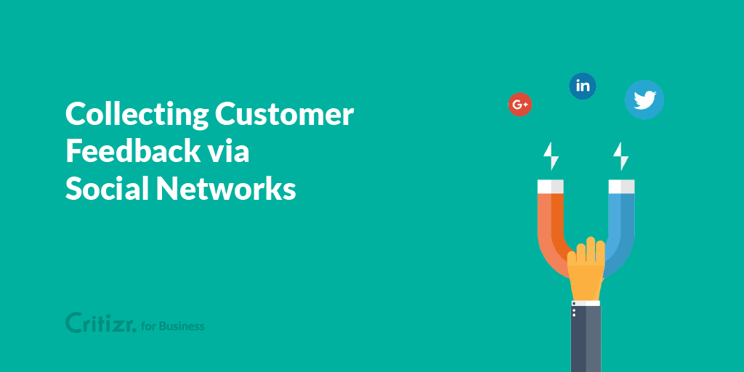 With 52% of the French population over the age of 12 registered on at least one social network (i.e. 62% of internet users) these platforms have become part of our daily lives and are changing how we communicate. That doesn't mean that social networks are just for young people though! 78% of 30-49 year-olds use social networks. Discussion, instant interaction and sharing are now the norm in corporate customer relationships.
SOCIAL NETWORKS, A POINT OF CONTACT WITH STRONG POTENTIAL
Social networks are one of many points of contact available today. Nevertheless, it's worth noting that they hold more importance than more traditional tools such as phone or email. A Facebook Newsroom study from 2014 reported that 63% of consumers would like companies to provide customer services via social networks. In 2012, a report by NM Incite said that one in three people would rather contact a business via social networks than by phone.
What's more, your customers are already using social networks, making it easier to get the discussion going. No need to attract them to your own website, download an app or go onto a third-party website. With over 30 million personal accounts in France, Facebook comes in at no.1, followed by Google+ with 10 million active users, then Twitter and LinkedIn with 6 million accounts each. The relevance of these figures varies depending on your industry and especially your target audience. Go to where the customers are!
Closer customer relationships found on social networks makes them the ideal platform to boost customer involvement. The report by NM Incite stated that 71% of customers who had a positive communication experience on social networks were likely to recommend the brand.
---
DOWNLOAD THE E-BOOK : The best customer feedback channels
---

HOW TO USE SOCIAL NETWORKS FOR COLLECTING FEEDBACK
There are two ways to do it: through a proactive approach and by using a listening strategy. Using the first method, the company contacts the customer and asks for their feedback. The second approach involves looking at areas where customers are giving spontaneous feedback about the company.
Facebook is the most widely used social network in France; here you can gather customer feedback in three different ways. First, by posting a status with a question. It's easy and effective, and you'll get feedback in the comments section. Similarly, you can also post surveys with closed-ended questions. These two options provide precise feedback on a specific topic, filling up your page over time. For continuous feedback, you need to activate the "customer feedback" feature in Facebook's settings. Just like TripAdvisor, customers comment on and evaluate your products or services through a rating system.
That said, not all customers will contact you directly with their positive or negative comments. So, it's useful to have a listening strategy in place by using services like Google Alerts or Mentions. This way, you will know what is being said across the web by searching for specific keywords or hashtags. You can then reply and start discussions where these conversations are taking place.
---
DOWNLOAD THE E-BOOK : The best customer feedback channels
---
Not unlike the "customer feedback" function on Facebook, Critizr offers even more customer feedback possibilities; you can gather feedback, analyse it and use it to continuously improve your business. Integrating the Critizr app into business pages on Facebook is very simple. By doing this, the user experience isn't disrupted and customers can give feedback without any hassle.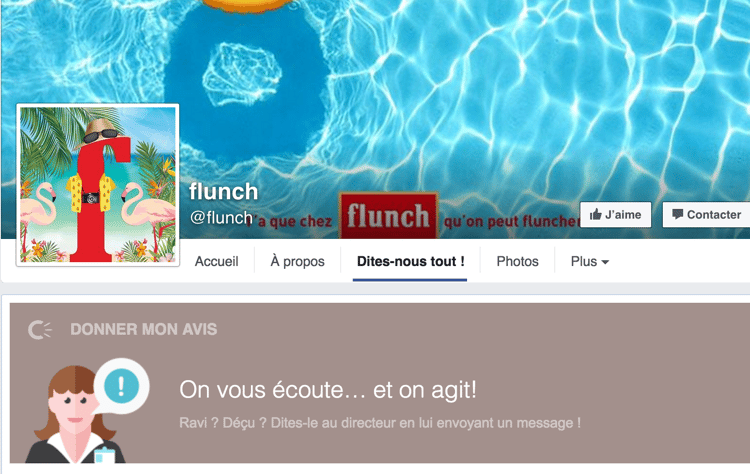 Example of integrating the Critizr app into Flunch's Facebook page
MISHAPS WHEN GATHERING CUSTOMER FEEDBACK ON SOCIAL NETWORKS
Three common errors can upset the results contained within the myriad feedback that comes in: an overly formal tone, slow response or no reply whatsoever.
The atmosphere of familiarity on this type of network calls for a more informal tone and a more down-to-earth approach. As such, a team assigned to "social care" or customer relationships on social networks is required.
Customers expect a rapid, even immediate, response rate. In the same report by NM Incite, we've learnt that 83% of Twitter users and 71% of Facebook users expect a reply that day. It was also noted that a quick but not very useful reply is better than a helpful but very late response. One user in three will recommend a brand when given a quick, albeit inadequate, reply.
What's more, a study by Conversocial has shown that when left with an unanswered question on social media, 88% of customers no longer want to buy that brand's products. That's a lot of rejection for a lack of consideration!
To improve services, develop a new product or modify a feature, nothing beats feedback from those using your products/services. Critizr can help with listening to customers and feedback collection, especially by integrating the app into Facebook business pages. By listening to customers and providing two-way communication on social networks, you will boost customer interaction and loyalty.
Sign up for our newsletter
Hear about our upcoming events and read the latest success stories from our clients.