Back
NPS: 5 limitations and 5 workaround tips

Hajar
International Customer Success Manager @ Critizr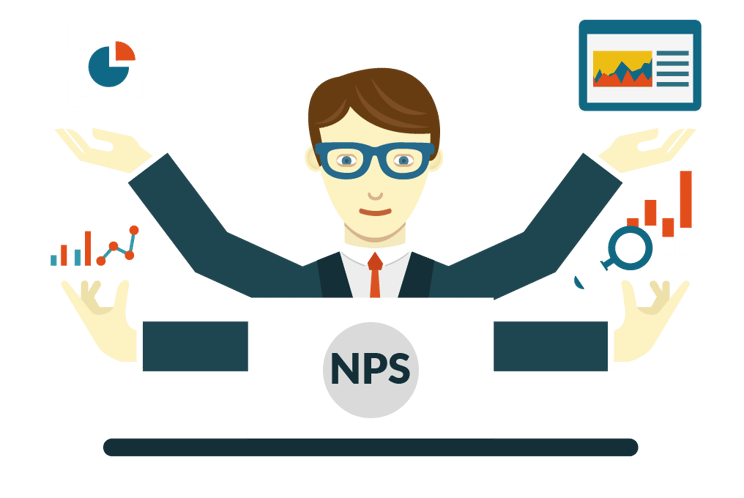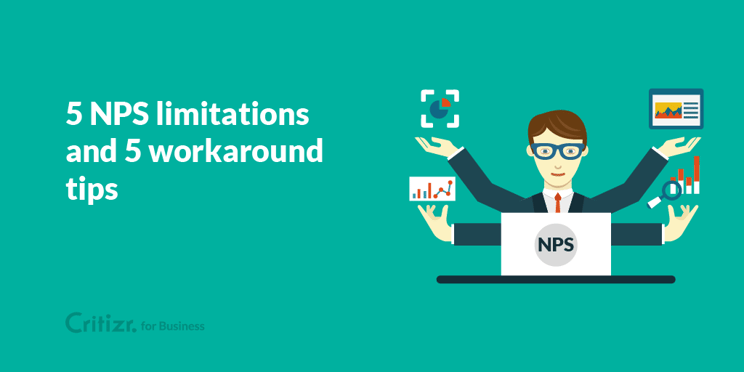 Get to grips with customer knowledge and resolve any retail issue simply by asking one question! Seems too good to be true? We thought so, too. Many people don't see the point of NPS and it's likely some of these doubters are hiding within your very business. Meanwhile, you've decided to go ahead and introduce NPS to them and are now in need of some counter-arguments to back up your decision. Here are 5 limitations "anti-NPSers" may throw at you and 5 ways you can prove them wrong!
DOUBT #1: NPS ISN'T A SELF-SUFFICIENT INDICATOR
NPS gives an indication of your customers' satisfaction levels. Would they recommend you to their friends and family? Are they happy being your customers? For these questions, NPS doesn't tell you why your customers are satisfied or dissatisfied, nor does it provide an action plan to keep them happy and loyal.
Tip: Make NPS worthwhile
NPS is worthwhile when it generates detailed responses. Ask your customers why they've given you that score. You could go for an open-ended question, allowing you to carry out semantic analysis and identify the most common threads in your customers' answers. Or, you could go with closed questions. Your customers could rate several aspects of their experience with your business such as the store, staff, products etc. It's important to remember that supplementary questions will help you understand why a score is high or low.
---
DOWNLOAD THE EBOOK: NPS DEFINITION, COLLECTION,CALCULATION,
---
DOUBT #2: NPS OVERLOOKS PASSIVE CUSTOMERS
NPS calculations fail to factor in passive customers. However, passive customers have the potential to be positive. Their score can change drastically depending on who answers the questions. If only paying customers give scores, there'll only be a few passive customers – around 20-40% in the retail sector, as it's based on customers signed up to the loyalty programme.
Tip: Make the most out of passive customers!
Use NPS to identify passive customers and launch an action plan catered to them. There is potential in passive customers because it's not as hard to transform them into promoters as it is to turn them into detractors. Customers are often passive because they have not yet forged a bond with the business and they're still much more interested in the product itself. You'll see that scores will improve once you begin offering them more assistance, advice and attention.
DOUBT #3: NPS IS UNPREDICTABLE AND NON-REPRESENTATIVE
NPS surveys are generally geared towards customers on the store's loyalty programme or customers already included within your CRM tool. Non-buyers give much lower scores. What's more, online customers are likely to give a very different score compared to those who buy in store. Therefore, your NPS isn't representative of all your customers.
Tip: Widespread measurements, segmented analysis
Avoid generalising score analysis or establishing one-for-all action plans. We recommend analysing per point of contact and measuring your NPS through pull and push channels to cover all your customers, even non-buyers. If you know your store's score, relationship NPS is just what you need.
DOUBT #4: NPS IS NOT THE PERCENTAGE OF CUSTOMERS WHO INTEND ON BUYING AGAIN
NPS measures the probability of a recommendation, not one's intentions of making another purchase or an estimate of future sales turnover. Despite its correlation with turnover, NPS doesn't quantify your customers' loyalty. In other words, the fact that a customer would recommend a store or product doesn't mean they'd buy there again. A customer may recommend your store for the quality of the products and service, but could go and buy from a competitor because it's cheaper.
Tip: Be proactive about turnover fluctuations by using NPS
The correlation between NPS and sales turnover is proven. By continuously measuring NPS, it will help you understand increased or decreased sales. Take for example an NPS survey during sale season: your customers will tell you exactly why they bought less or didn't buy at all. Maybe the sale wasn't great, not many products were on sale, the store was poorly organised or there wasn't much advice or assistance during the sale. This way, you can understand what's affecting your sales turnover and can be proactive during the next sale by improving sales efforts. In certain cases, you could also include a "would you buy again?" question in the NPS survey.
---
WATCH THE WEBINAR

: BECOME AN NPS EXPERT IN 20 MINUTES
---
DOUBT #5: NPS CAN BE OFF-PUTTING FOR STAFF
When you introduce NPS to boost customer loyalty, you obviously want to see the score improve. This objective can be a nightmare for on-site staff. The retail outlet that progresses the least or with the lowest score sees themselves as underperforming and being judged by a number. Be aware that NPS doesn't only depend on staff efforts, but also on the size of the shop, the products, supplies, customers, etc.
Tip: Empower your staff rather than make them customer phobic
NPS is a great way of getting your staff to care about customer loyalty and to get stuck into their action plan. Organise regional NPS meetings so that the "best in class" can share their advice and find solutions to help boost struggling teams in an inspiring environment fueled by teamwork.
NPS isn't a miraculous indicator—the secret of its success lies in its simplicity. It is powerful because it can adapt to all customer points of contact, enabling customer-centric stores to elaborate on their customer knowledge and thereby offer an optimal experience. Nevertheless, NPS still relies on follow-up questions and other KPIs in order to meet its aims.
Sign up for our newsletter
Hear about our upcoming events and read the latest success stories from our clients.