Back
Q&A: Director Customer Excellence, Carrefour Belgium, talks transforming feedback loops and 'warming up' NPS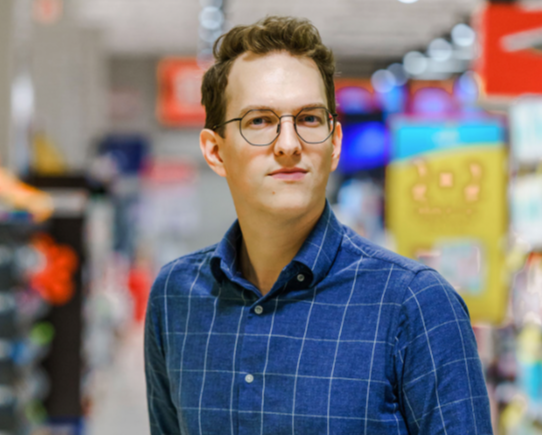 Rebecca Smith
Senior Content Manager, Goodays
With over 11 years of experience at Carrefour Belgium, Bram Vermesen is a true customer experience expert. We chatted with Bram about the experience at Carrefour Belgium and how the Goodays platform helps them to achieve Customer obsession.

Hi Bram, can you tell us a bit about your background and experience with Carrefour?

I've been with Carrefour for 11 years now. Starting as a graduate trainee, I then evolved to become Store Director of various hypermarkets and then moved into the operational and customer experience side.

I've always had quite a 'hands-on' approach to customer experience and service, particularly when I was Store Director. For example, whenever the store became really busy, and I noticed many people at the check-out, I would always help out. Perception-wise, it's great for customers to see that the Store Director himself was taking charge and doing everything they could to improve the experience.

Today, as Director of Customer Excellence, my scope is much bigger than ensuring a positive checkout experience - although this still remains an important part of the role.




Why was ensuring Carrefour Belgium became customer obsessed a top priority for you?

In Belgium, we have intense competition within the grocery sector. The level of customer service and centricity is generally really high, so it's important that we remain one of the leaders in this field.

Customer-centricity remains high on every retailer's priority list, but really, it's sort of old-fashioned. It's 2023, and we are still focusing on it when really it should be in the DNA of everything we do. We are striving to be customer-obsessed at Carrefour Belgium. To be connected to customers in everything we do.



How did you typically manage feedback in the past at Carrefour Belgium?

Historically we were experiencing what you would call a 'cold NPS'. We were receiving customer data through panels, feedback and questionnaires, but the insights often took up to 12 months to receive post-visit.

This was obviously not effective enough for us here at Carrefour, Belgium. We strive to ensure all customers are happy with their experience in-store, and delayed data meant we couldn't act on issues immediately to fix them.

That's one of the reasons why we implemented Goodays. To create faster feedback loops with customers to adapt and act faster towards improvements.



You've been using the Goodays platform for a couple of years now. What difference has it made to how you now approach, collect and use feedback?
Being able to capture data and feedback in real-time means we now not only have a 'warm' NPS but are on the way to a really 'Hot' NPS!
It's been transformational for us. Store and Franchise Managers can interact and engage with local customers easier and quicker than ever before.
The teams love using it, and the business results reflect this too. Since launching Goodays, we've increased NPS by +3 points across our entire network, and we generally see that the higher the score engagement, the higher the NPS becomes. Take our Market Halle store, for example; they increased their NPS by +31 from 2021 to 2022 after increasing their responses and reducing their reply time - a fantastic result!
The most important reason to use a platform such as Goodays is to ensure customer feedback becomes a daily topic. It puts NPS on the map across the entire business, ensuring it's a constant evolution and remains front of mind for everyone.

What does the future hold for Carrefour Belgium?

We will continue on our journey to Customer obsession and are excited to make feedback come even more alive! My aim is to descend it into all layers of the company and fully engrain feedback into all parts of the business.



To download the full Carrefour Belgium Case Study, click below.
Sign up for our newsletter
Hear about our upcoming events and read the latest success stories from our clients.