Back
Supermarket & convenience store study : Do you know the reasons behind your customers dissatisfaction?

Laura Spitz
Marketing Manager - France
According to the most recent available statistics (Eurosat 2016), Europeans spend an average of €2,200 per person on food each year, varying significantly from country to country: €2,600 in Luxembourg, €2,200 in France and Italy, €1,800 in Germany and Austria, and €1,600 in the U.K. Since 2010, after decades of dipping, the proportions of food-related expenses in household budgets have been on the rise, with an average increase of €200 per person over six years.
The good news for members of the food industry is that this spending will continue to climb in years to come, especially since consumers, who are better informed than ever, are gradually changing their food habits. With greater concern for the quality, origin and environmental impact of what they eat, they are also becoming more demanding of the food stores they visit and more critical of the ever-growing range of products available to them due to fierce competition in every part of the market. To be able to rectify these problems, every store in the food industry must now obligatorily be aware of what causes customer dissatisfaction.
Identifying and understanding sources of dissatisfaction
To uncover the main sources of customer dissatisfaction in the food industry, we analyzed 21,000 points of informal feedback from consumers across nine categories of food stores: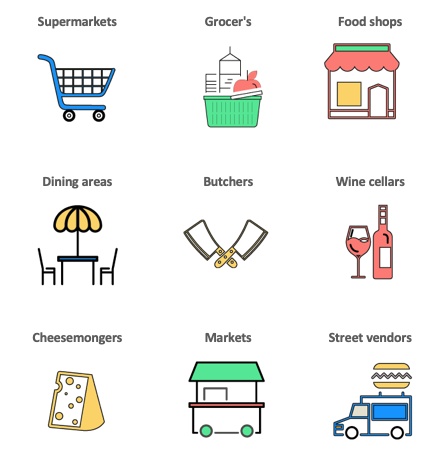 Each point of feedback consisted of a transcript and an overall satisfaction score, calculated automatically through the Critizr platform from the rating assigned (out of 5) for the four following questions by each participant:
What do you think of the store's promotions?
Were you able to find all your items quickly?
Did you have a good experience at checkout?
Did you receive appropriate help?
The 21,000 transcripts were processed through semantic analysis algorithms to extract meaningful terms (anything positive or negative, statements of position, levels of involvement) and summarize the main categories of subjects that preoccupy food store customers. These are the results we discovered: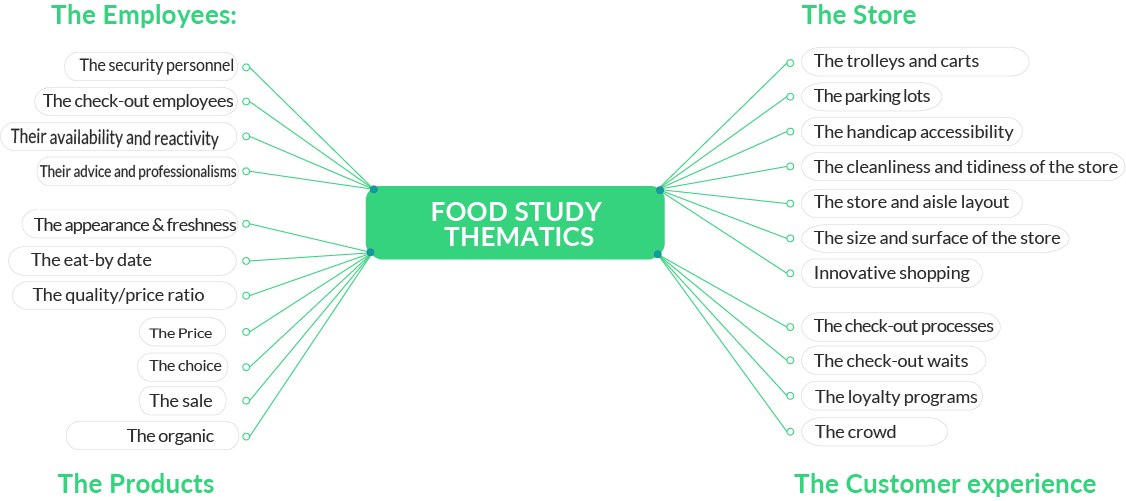 At this stage, if you are familiar with the industry, you may be thinking that this list reveals few new findings. That may be true, but we obviously did not stop there! The statistical analysis of these transcripts and the identification of sources of dissatisfaction enabled us to create a matrix where each source is linked to two additional parameters: the volume of transcripts that discuss this specific theme and the overall satisfaction score tied to these transcripts. In turn, this further enabled us to highlight the impact of each source of dissatisfaction on the CSAT (the overall customer satisfaction score). Thanks to this approach, we discovered that some oft-cited sources of dissatisfaction have a surprisingly low impact on customer satisfaction. On the other hand, some that are rarely mentioned correlate to very low customer satisfaction scores. However, although these two groups deserve the attention of store managers, they are not the most problematic.
The 4 main sources of dissatisfaction amongst your customers
As a matter of fact, the matrix illuminates four sources of dissatisfaction that are both often cited and that have a strong negative effect. We categorize them as "threatening." These are, as you may have guessed, the themes of dissatisfaction that you should, as a manager in the food industry, address as a priority if you want to keep your customers and protect your reputation. Here they are, in order of decreasing importance:
1. Checkout staff.
This is the most significant theme, both in terms of volume (25% of all analysed transcripts describe it as a "problem") and impact on the overall satisfaction score. 26% of transcripts that discussed "Checkout staff" used the word "cashier" with a negative connotation. This is the major source of dissatisfaction for customers of grocery stores—especially supermarkets. Its importance is, unsurprisingly, less pronounced in local, specialized stores (butchers, wine sellers and cheese-mongers).
2. Prices.
More than 20% of the transcripts reported problems related to prices. After checkout staff, this theme has the greatest impact on satisfaction scores. Most consumers who mention this topic detest prices they believe are too high. A small number of customers report irritation over prices missing from shelves or differences between the displayed price and the price paid at checkout. All these criticisms pertain mainly to major food retailers.
3. Checkout wait times.
Checkout is the step of the buying process that unquestionably generates the most dissatisfaction: 32% of the collected transcripts contain the term "checkout wait time," but this proportion climbs to 44% for when considering negative feedback. When you know that 30% of consumers have decided not to follow through with a purchase due to the length of lines and the waste of time it represents for them, you understand the vital importance of fixing this problem.
4. Product selection.
As much as 7% of the problems discussed by consumers are related to product selection in stores, and this figure grows to 13% when considering only organic food stores. Evidently, customers who visit this type of store are more demanding with respect to product selection than those who buy organic products at large and medium-sized food stores. A significant portion of these transcripts also brought up recurring inventory problems.
When it comes to your customers' experience, everything counts!
The emphasis on the four above themes hardly implies that the others are unimportant! Even if they have not been brought up in this article, it is simply because—over the sample studied—they were mentioned less frequently or their impact on overall satisfaction was lower. It goes without saying that at the store level, recurring negative comments about cleanliness, expiration dates or the behavior of security personnel are warning signs to take very seriously anywhere in the food industry. You certainly need to be aware of it! And when it comes to that, there is no real secret.
If you truly want to know what is happening in your store or in the different branches of your brand, you must:
1/Provide yourself with the means to learn what your clients are saying on a local level;
2/ Analyse and rank the problems reported in accordance with their impact upon satisfaction;
3/ Take corrective actions, beginning with the themes that create the most significant risks for each store evaluated.
To find out more, download our complete study below :
Sign up for our newsletter
Hear about our upcoming events and read the latest success stories from our clients.