Back
How Monoprix engage the entire company with customer interactions and CX

Monoprix
315
Stores connected to Goodays
Explore what Goodays can do for you
Contact Sales
The company
Monoprix is a major French retail chain with its stores combining food retailing with fashion, beauty and home products.
Main objectives for Monoprix
Identify the causes of customer dissatisfaction and put improvement projects into action.

• Anchor customer listening in the day-to-day lives of all the company's departments.

• Possess a managerial tool that makes it possible to guide the business using indicators other than purely economic ones.

• Interact with the customers to earn their loyalty and learn how to increase their satisfaction.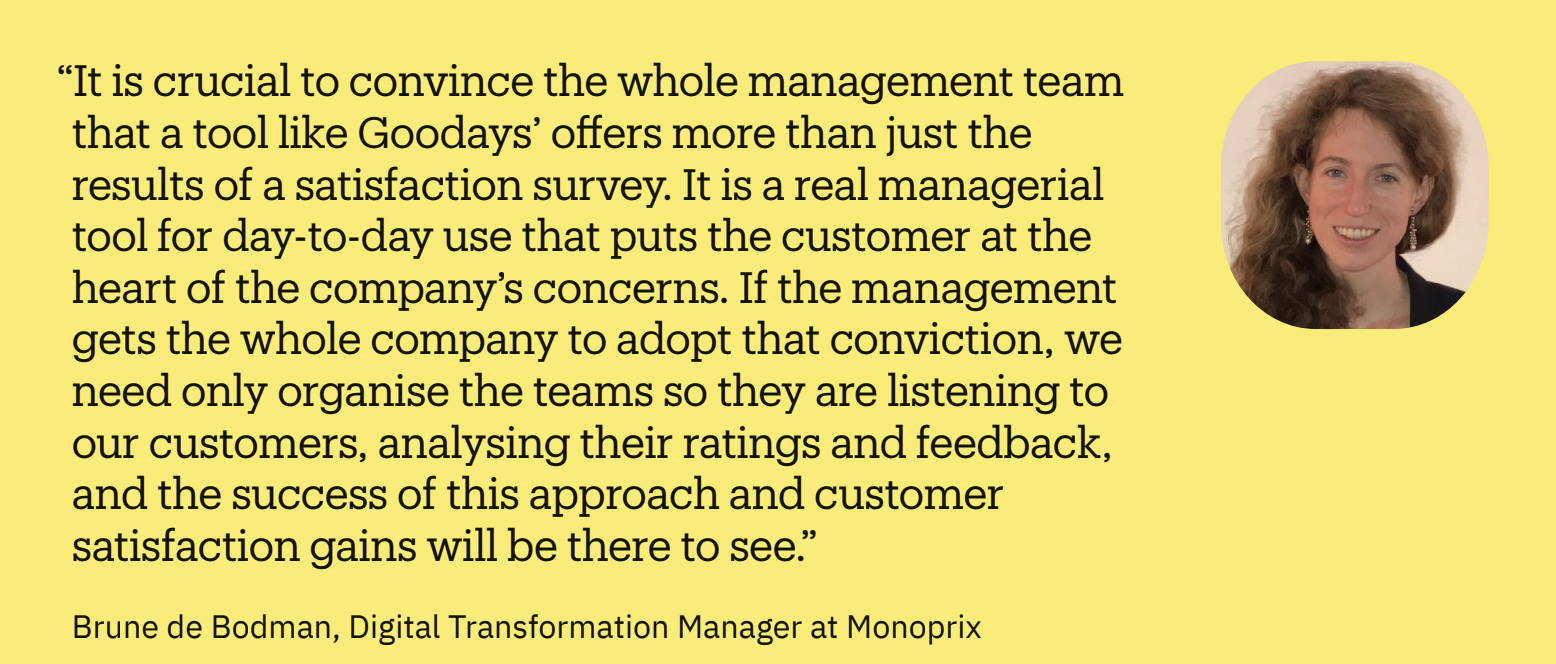 The Approach and Results
Monoprix switched from a survey-less system for customer listening to one that promotes a locally-based and multi-channel approach. Goodays facilitates brand communication with their customers, whether they made their purchase in a store or online.
1. Encourage customers to share feedback about their in-store experience
Goodays has enabled Monoprix to gauge the satisfaction of its in-store customers as well as those who make their purchases online.
A new in-store signage system is currently being tested to reinforce customer listening for those who have not signed up to the loyalty programme.
2. Supply every department with customer feedback
Monoprix has made Goodays its day-to-day management tool: all the company's teams are provided with the results collected through the platform.The e-commerce department, logistics or purchasing managers rely on the analysis of customer feedback to set about improvement projects.

• At headquarters, the company has set up an NPS team dedicated to implementing and developing the customer listening strategy: identification of
collection channels, roll-out, and testing.

• On the operational side, each store manager uses the Goodays platform to analyse the feedback from their customers, engage in a discussion with them, and adapt their store to the customers' needs.

3. Give store managers a day-to-day ally
The issues raised by customers vary from one store to another. With Goodays, Monoprix has made customer satisfaction a local issue. Each store manager handles customer feedback to identify causes of dissatisfaction and take practical steps to improve. Only subjects concerning online services or those common to all the stores—such as topics related to purchasing—are dealt with by headquarters and handled by a working group.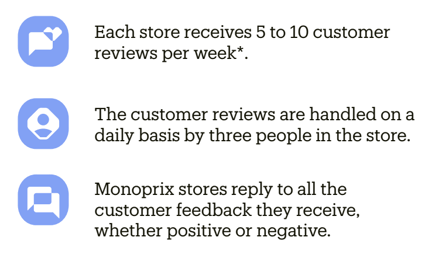 4. In-store actions
For the stores in general, the system centred on sales promotions was identified as a cause of customer dissatisfaction. By listening to its customers, the brand has completely redesigned the promotional signage in its stores, revised its promotions for the benefit of urban areas, and bolstered its IT processes
to eliminate problems at checkout. For the stores in general, the system centred on sales promotions was identified as a cause of customer dissatisfaction.
Goodays enables Monoprix to have focus meetings and track trends in customer feedback on specific topics: The rate of missing items in stores, the delivery service, and so on.
The brand has already seen some improvement in customer satisfaction and relationship scores locally, as well as in its NPS.
Download the full case study below:
We're here to help you
Share the Goodays platform with your colleagues
Share the platform