Back
The Power of Conversational Commerce in Physical Retail: 4 examples to get you started

Rebecca Smith
Senior Content Manager, Goodays
First of all, you may be asking yourself: what exactly is "Conversational Commerce ?" Luckily, we have a blog all about this, check it out here. Secondly, you may ask, how does it actually work in physical retail outlets and what are its advantages?
Well, you're in the right place, so read on. Here are just a few ways in which Conversational Commerce can be used to drive real retail results.
Conversational Commerce Examples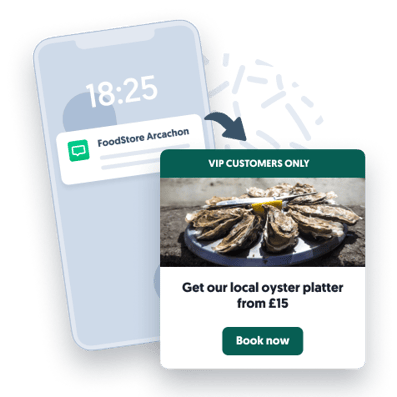 Conversational Commerce Use Case 1:
Promote exclusive offers to your most loyal customers.
The Advantages: Reward and build trust amongst your best customers and drive more business.
Loyal customers want to be rewarded. And so they should be. With the right Conversational Commerce platform, brands can transform promotional emails or text messages into conversations to increase conversation. Going further than the standard 'promo email' that so many customers already receive and consequently building a stronger customer connection through an open and ongoing dialogue.
For example, imagine your store has a premium, perishable product, such as a local oyster platter, on sale. You have stock left and want to offer a discount to quickly sell it through - but only to your best customers who shop regularly in-store.
A platform that supports Conversational Commerce allows your store manager to quickly and easily create a personal message - to be sent via email or text - which highlights the product, offer and purchase option to your chosen customer group. The result? Your loyal customers feel appreciated and you drive additional sales. It's an all-round win for your store.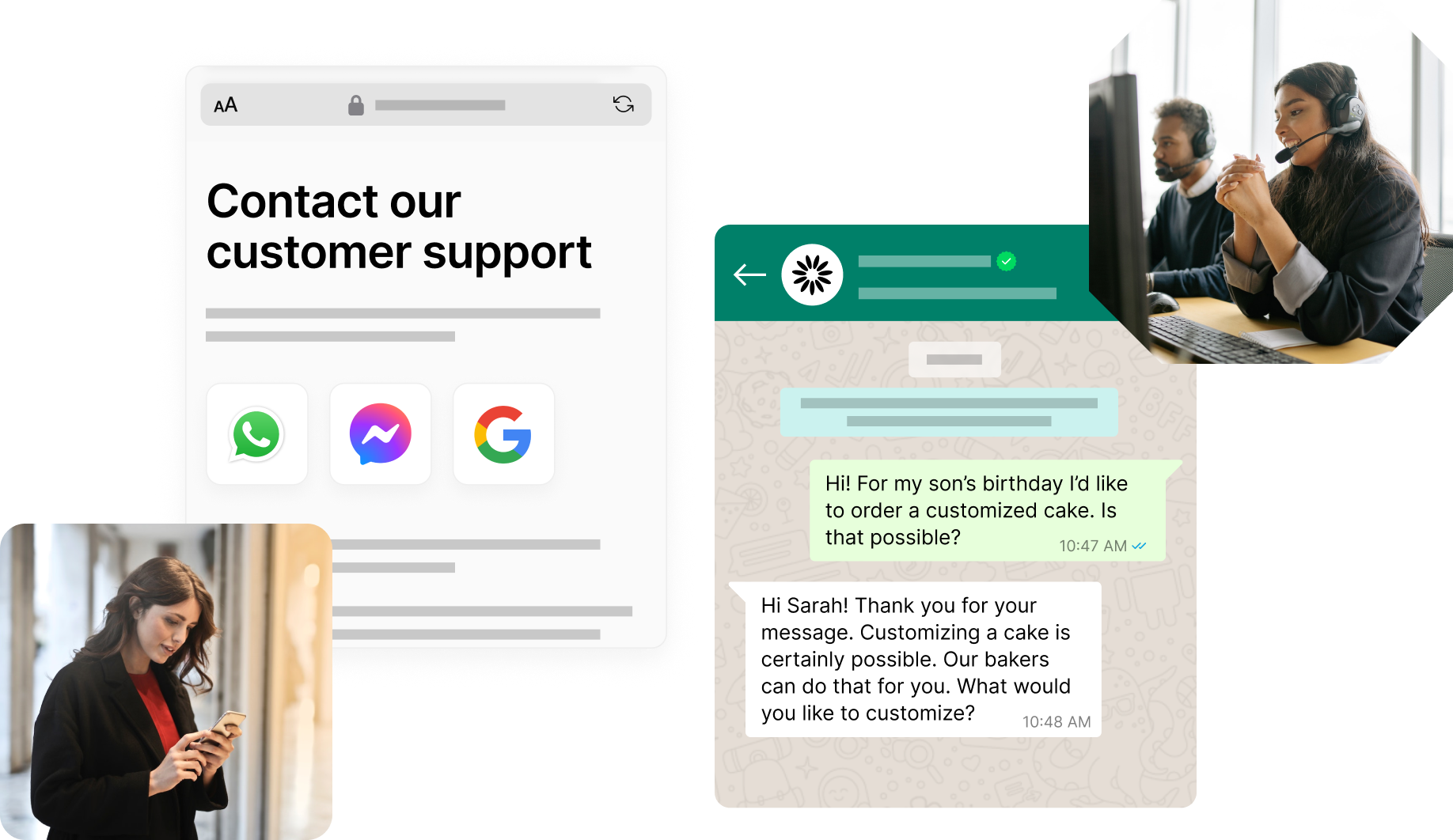 Conversational Commerce Use Case 2:
Deliver expert advice pre, post and during a customer store visit.
The Advantages: A more personalised shopping experience, a closer relationship with undecided customers, and additional sales.
Who better to offer advice and expertise than the local store teams who know the most about the products they sell? Having that local context and knowledge is the key to delivering an exceptional customer experience and can only be provided by real people working in-store every day.
For example, a local team member in a furniture store will be able to recommend a new piece of furniture that would look great alongside a customer's existing pieces because they have an existing connection with that customer. By offering ongoing friendly, expert advice, you build up a unique rapport with customers which in turn builds trust - not just in your individual store but in the bigger brand. And whenever that customer needs furniture advice in the future, guess who they will come to?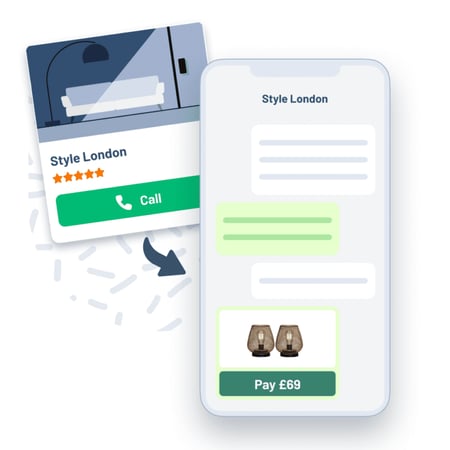 Conversational Commerce Use Case 3:
Faster responses to customer questions and queries
The Advantages: Be 'in the pocket' of your customers at all times, offering them a simple, flexible and more reactive way to get in touch.
With Conversational Commerce, your brand can achieve an instantaneous connection with your customers: the loyal, the undecided, the dissatisfied and more. In the past, it may have seemed complicated for local store teams to communicate directly with clients in real-time, but Conversational Commerce solves this dilemma. How? By connecting customers to real people, in real-time, to deliver a simple, immediate, consistent and personal service, with all the benefits of local context (something that boring, unoriginal surveys and chatbots will never deliver for your customers).
For example, if a customer needs to know what offers are currently available or what time the store closes, a store manager can respond quickly, Instead of your customer waiting days for a brand response, by which time they're moved on to shop with one of your competitors.
---
DISCOVER MORE ABOUT CONVERSATIONAL COMMERCE AND HOW MONOPRIX ARE INNOVATING WITHIN THIS SPACE
---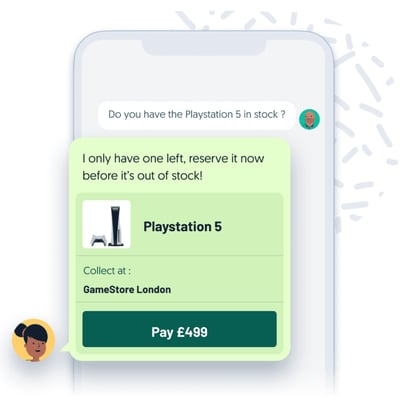 Conversational Commerce Use Case 4:
Check stock and reserve inventory
The Advantages: Understand product demand, drive in-store footfall and sales and improve omnichannel capabilities.
Customers often confirm that one frustrating thing about shopping in-store can be arriving to purchase an item only to discover it's out of stock. The introduction of click and collect has helped, however what about local stores which don't offer this function? Thankfully, Conversational Commerce gives store teams the power to check, reserve and sell products directly when customers make an enquiry, in just a few easy clicks - ensuring they don't look elsewhere and end up purchasing from an online merchant (e.g. from that famous rainforest in South America!)
And of course, once a customer is in-store, retailers have an opportunity to upsell. According to a study, almost a quarter (24%) of European adults who used Click & Collect bought another item while picking up their order.
So, how can you implement Conversational Commerce within retail outlets?
Well, this all sounds great, right? But to deploy Conversational Commerce successfully, store teams firstly need to be upskilled and have a customer-obsessed mindset. Indeed, Conversational Commerce is a 'human' revolution, not a technological one.

It may be 'easy' for an individual store owner to adopt this practice, but when faced with a global brand with thousands of stores, the adoption can become more challenging. So how can retailers tackle this? Firstly, brands need a plan. A concrete plan which outlines how to train team members, how they can provide ongoing support and how to review and monitor the quality of execution.

Secondly, retailers need to invest in a solution that is specifically designed for retail and physical outlets (not just eCommerce), which actively empowers store teams to converse with customers and proactively take the actions which drive transformational change. Without this base, teams won't have the knowledge or tools to make Conversational Commerce a reality.

Platforms such as Goodays Connection create this strong, effective foundation to immediately elevate your customer interactions - providing the perfect building block to help your brand enter the age of Conversational Commerce.
Join the future of Conversational Commerce:
Are you an existing Goodays Connection user and want to innovate with Conversational Commerce? Speak with your Engagement Manager today to book an Innovation meeting with our Founders.


Not familiar with Goodays and want to demo our world-leading customer interaction platform? Book a free and friendly demo here.
Sign up for our newsletter
Hear about our upcoming events and read the latest success stories from our clients.