Back
France vs UK: How COVID-19 is transforming physical retail across Europe

Rebecca Smith
Senior Content Manager, Goodays
France may have been released from full lockdown earlier than the UK, but both countries are now back and battling to build a best-in-class physical retail experience for the COVID-19 era. How are they faring? Is there anything we can learn from our cross channel neighbours – and vice versa? From in-store tech to virtual fittings and contactless payments, Critizr's European team has collated and rated some of the best initiatives in both markets. Here are some of the innovations that caught our eye.
Grocery: health and hygiene
UK: Asda came out top in the Grocer's Covid survey and it continues to deliver ingenious hygiene solutions for customers. Its trolley wash technology is a water-less system that coats trolleys in fine antimicrobial particles, sanitising them in seconds. Trials of 'clean robots' automatically drive around predetermined routes in select stores – programmed to stop if a shopper gets in the way. Quick, clean and providing absolute reassurance when it comes to in-store safety for customers.
France: French grocer giant Carrefour went one step further with a whole sanitation tunnel in their Belgium stores. Customers can walk through this ''Safety Cube' to enter the store if they choose. The lower parts of their bodies are disinfected, along with their shopping trolley or basket via a spray system. There's sanitiser gel for hands, and an infra-red scanner even takes customers' temperatures as they walk through - saving time and effort for customers entering the store.

Left: Asda, Right: Carrefour
High Street Fashion: contactless shopping
France: French fashion brand Kiabi offers a friendly 'drive through' service for customers who don't feel comfortable with the in-store experience. Shoppers simply buy their items online and collect them outside the store, where teams equipped with masks and gloves will put them in the car boot. A fast, fuss-free experience (if the traffic is good).
UK: Marks and Spencer has partnered with global fulfilment and returns tech company Doddle to trial a similar 'dress drive-thru' service to avoid unnecessary contact and queues. Customers simply book a time slot, arrive at the store and press a link on their phone to have parcels delivered to the car door. Convenient, seamless, and helping M&S customers shop with more certainty.
Department stores: virtual styling
France: Galeries Lafayette has partnered with the 'intelligent personal assistant' technology of French start-up Veertus. Customers enter around ten different details relating to their size and shape, then when they want to 'try on' clothes in the store, they use their smartphone to scan the garment label to see what they'd look like wearing it. A visual comes alongside recommendations on fit, sizing and style – just like having friendly personal shopper in your pocket.
UK: John Lewis launched a whole programme of virtual services over lockdown, including a new personal styling service. Free one-to-one video appointments with stylists from the John Lewis Style Studios can be booked to help customers find outfits, booked via the stylist's own Instagram account. Stylists also host style Q&As and share inspirational content, bringing a new layer of customer service excellence for shoppers – which also extends to home and nursery appointments with the brand.

Left: Galeries Lafayette, Right: John Lewis
Fitness industry: queue management
France: Fitness brand Les Cercles de la Forme has devised two innovative tools to help customers find available slots and keep numbers at safe levels at their gyms. The IMF - Maximum Instantaneous Attendance - indicates in real time on the website and mobile app how many places are available on the bodybuilding-cardio platform of each club. The FMI comparator, also allows clients to choose between several clubs according to the number of available places indicated.
UK: The Gym Group, which has 175 sites around the UK, is trialling a system that runs data from a portal entry system into a 'busyness tracker' on its app, allowing members to see if there's enough space before they visit. They've also integrated the home / gym workout experience by giving members access to the start-up fitness app 'Fiit', meaning people can connect their phones to a video screen in a 'fit pod' at the gym, so they can do the same workout they would do at home, but with the use of equipment available in the gym.
Beauty: tech enhanced shopping experiences
UK: High street beauty favourite Lush uses its 'Lush Lens' app to enable customers to scan unpackaged products for ingredient information, pricing and 'how to' demonstrations in-store, providing an entertaining and personal experience for shoppers. Pre-filled sample pots packaged with tamper proof seals also reassure customers around health and safety.
France: French beauty giant Sephora have had to make big changes to their in-store experience as understandably customers can no longer test make-up before purchasing. Testers are now for display only and Sephora have added plastic coverings to display units to ensure products aren't contaminated by staff or shoppers.

Left: Lush, Right: Sephora
Home improvement: virtual design service
UK: Wickes has launched a new virtual design service, meaning customers can design their dream space and have it delivered and installed without visiting the store in person. After submitting a basic room measurement, a Wickes design consultant will set up a video consultation to tour the showroom and take a look at the customers' space. A customised 3D design, quote and payment plan will then be created, before Wickes approved installers are booked to complete the job.
France: As well as providing virtual support to customers, French DIY brand Leroy Merlin wanted to make sure customers received extra support and a personal service in store. To do that, they posted a phone number in store aisles for customers to call if they want a face to face consultation with a sales advisor.

Left: Wickes, Right: Leroy Merlin
Luxury: enticing store events
UK: For customers who are still unsure about indoor shopping, Selfridges London took a creative approach by launching its own outdoor market in London every weekend. 'Market on the Mews' sits behind the brand's iconic Oxford Street store, selling coffee, ice-cream flowers and plants, a curated selection of homeware items from The Conran Shop – alongside live entertainment, music and family activities.
France: Bon Marche Rive Gauche in Paris is celebrating the start of the school year with an extravaganza to entice shoppers back to their luxury store. 'Once Upon a Time in Belgium' will feature décor inspired by Belgian comic book heroes, high end fashion collaborations, exclusive products, speciality food, workshops, music and in-store fun and games for all the family. All the makings of an unforgettable shopping experience.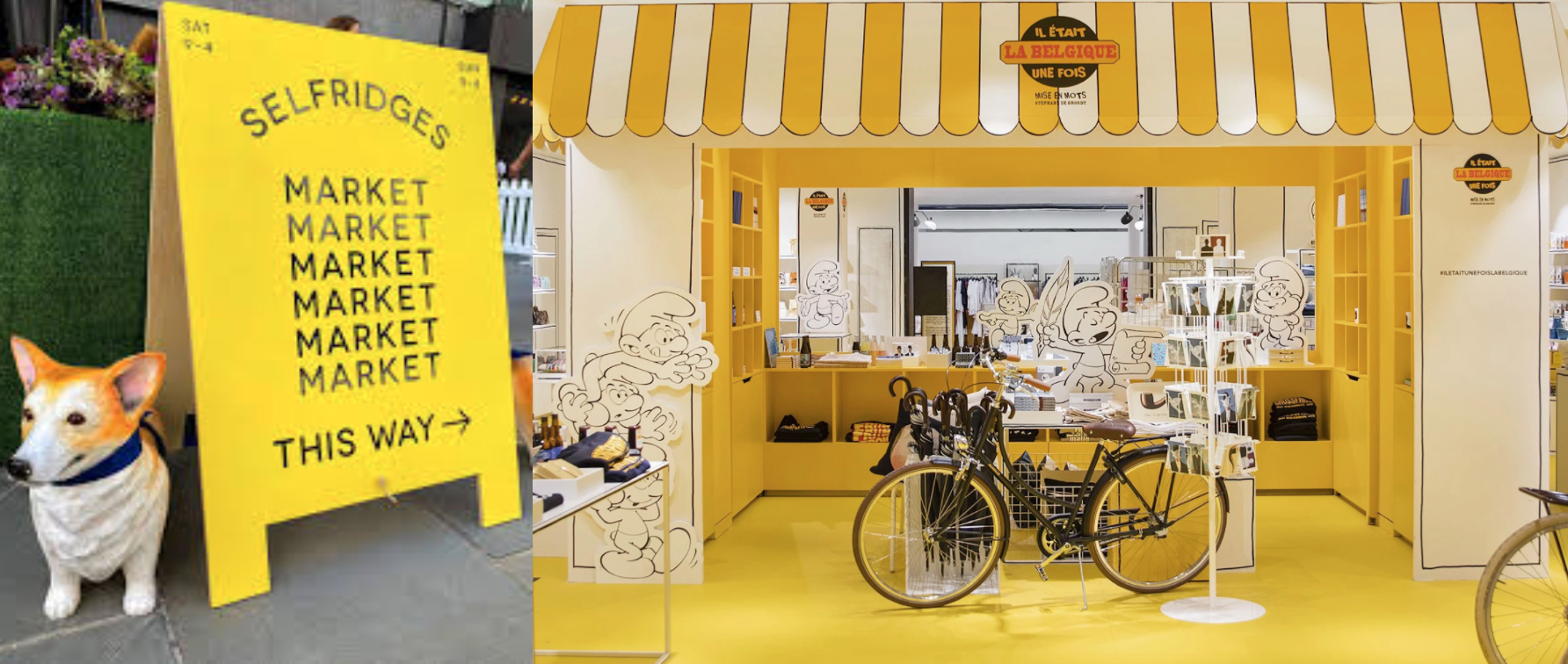 Left: Selfridges, Right:Bon Marche Rive Gauche
Optical: personalised fittings
France: Optical brand Alain Afflelou has introduced a 'Scan Mirror' tool, which creates a video of a client's face from all angles to allow them to virtually try on as many makes and models of glasses as they wish – at home or in the store. Options can also be shared with others to get a second opinion.
UK: London based spectacles retailer Cubitts already offered 'The Speculator' virtual try on service. During lockdown it trialled a new app to more accurately match people with their perfect glasses – using first to market face, nose and ear scanning to plot the position and dimensions of the full head - before finding the most suitable options from Cubitts' core selection of frames. Fast, fun and guaranteed to find the perfect fit.



Discover more about transforming the retail experience and becoming customer obsessed in our latest e-book, 'Human Conversations Drive Loyalty'.
Sign up for our newsletter
Hear about our upcoming events and read the latest success stories from our clients.