Back
How to Boost Your Brand Image with spontaneous customer feedback

Laura Spitz
Marketing Manager - France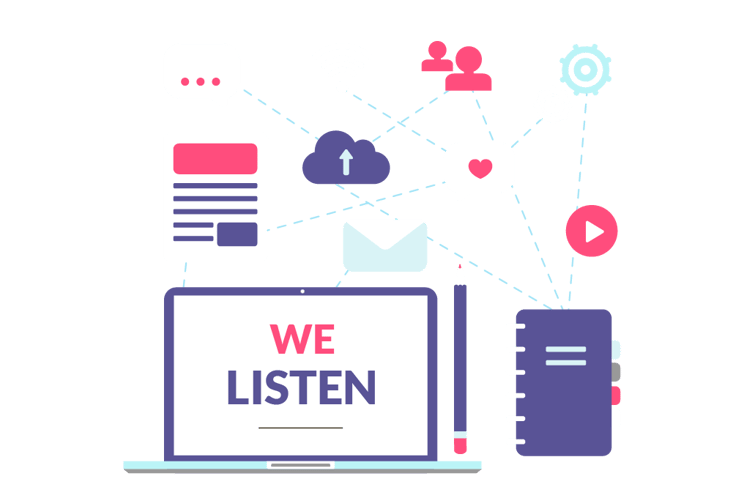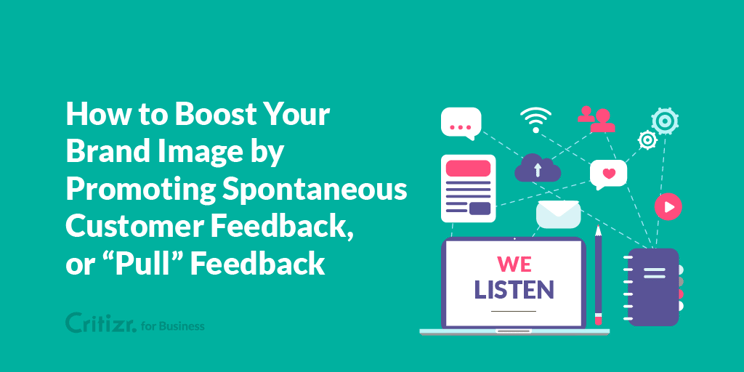 Whether you like it or not, your customers will always share their unsolicited opinions about your company. They certainly don't suffer from a lack of options, between Facebook and Google reviews, TripAdvisor, Critizr, and similar outlets. So, it is in your company's best interest to quickly collect spontaneous customer feedback, or pull feedback, when it occurs (and it will!). To do so, there are different ways you can encourage your customers to express themselves on your website and mobile app, as well as at your points of sale. In this article, discover all of our tips for showing your customers that your company is not just listening to them, but also actively providing them with such opportunities to speak their mind.
It's an understatement to say that customer feedback is important for companies today. New technology has changed the playing field, as much for customers as for businesses. With so many channels through which to connect, getting customer feedback is simpler—but also more important—than ever. And, believe us, this is for the best!
Usually, after a terrible shopping experience (it happens!), customers will look for an outlet where they can express their dissatisfaction. Their first stop is sure to be your website, as they look for a familiar means of contact, such as an email address, contact form, chat box, phone number, or social media platform. This is a critical moment, because if customers can't reach you or prefer not to use what's available to them on your site, you can bet that they will look elsewhere. This means you're going to miss out on their feedback, which is a lost opportunity indeed. So where will they go? As we said before, they're not short on options. Customers will turn to a plethora of social platforms to vent their frustration to the greater online community.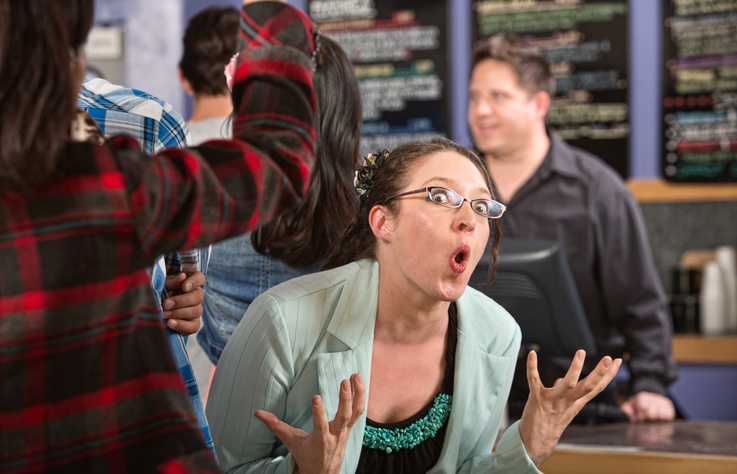 In 50 to 70% of cases, unsolicited opinions are of the negative variety. And really, that's not so surprising, since we are typically more motivated to find a way to express ourselves when we are disappointed, as opposed to feeling satisfied or neutral, with a company. If customers don't complain directly to the company, they will turn to customer opinion platforms or general social media outlets, or at the very least turn to their friends and family.
That idea may seem discouraging to many companies, but in fact, this spontaneous feedback is worth its weight in gold. Customer dissatisfaction is a source of precious data for improving the customer experience. The worst thing isn't to have dissatisfied customers, but rather to have customers who leave without saying a word, thus leaving the company with no way to win them back and identify ways to improve.
Providing customers with ways of reaching you when they have something to say is a measure to take back control of your online reputation, boost your brand image as a company that is responsive to its customers, and garner clues for optimizing customer satisfaction.
IDENTIFYING KEY MOMENTS OF THE CUSTOMER JOURNEY
Customer relations today needs to be multichannel, and needs not to conform to current trends since every customer is different. Some will naturally go to Facebook to reach out to you, others will want to interact via chat, and still others will prioritize human contact. To make it easier for your customers to express themselves, you need to be able to identify the right channels.
In addition to providing multiple possible feedback channels, you need to consider unsolicited feedback as it relates to your customers' journey. Understanding exactly how the customer journey works will help you identify the best channels for each stage and increase the volume of spontaneous feedback.
What's more, customers need to trust that someone is going to truly take their feedback into account. Having a trusted third party collect customer opinions is an effective solution. Among other benefits, this transparency will help you avoid leaks to other platforms that will damage your online reputation.

Example 1: In-store feedback
Providing a place for feedback in stores is an important way to reassure your customers and increase the visitor-to-customer conversion rate. When they visit your point of sale, are customers easily able to share their opinions? Your tech-savvy customers will likely whip out their smartphones to send their feedback through your mobile app, but can other types of customers, perhaps those less technologically equipped, share their opinions just as easily? Many tools are at your disposal to make sure they can, including digital kiosks. Don't hesitate to use your in-store advertising to show your customers that you care about what they have to say. Though you will still receive more customer feedback when you solicit it via email, it is advantageous to use a QR code or SMS callback. Text messages are also a great solution, which, unlike SMS callback, let customers speak their mind as though they were chatting with a friend.
Example 2: Online feedback
As a rule, your customers should be able to send feedback whenever they like: at home, on the bus, at the zoo—no matter where they are, they should always be able to easily contact your company. And, of course, your customer journey should account for this customer need to be able to express themselves at any time. Provide them with the opportunity to do so both on the web and from their phones!
Your website and store websites form the vanguard of your essential feedback-gathering tools. Why? They are usually the first places your customers visit when they need information about you.
Of course, you can't forget about social media, which includes Facebook, Twitter, and other platforms. Critizr, for example, provides a widget that can be directly embedded in our partner clients' Facebook pages to make it easy for their customers to voice spontaneous feedback.
The Internet provides infinite opportunities for your customers to express themselves. Funneling that spontaneous feedback through your own selected channels could not be any more important. Compared to the push method, which only reaches store visitors who make purchases, the pull method can also gather information from those who don't. This is a great chance to understand why your competitors' customers aren't your customers.
The pull method is not intended to gather a similar volume of feedback to the push method but rather to boost your company's brand image and show your customers that you are there for them, and to give them the opportunity to express themselves when they feel the need to do so. To be successful, you need to base your feedback strategy on your customer journey(s). Every company is different, so the stages of the customer journey will be too. By cross-referencing those steps with the means of contact prioritized by your customers, you can roll out the right feedback channels in the right places at the right times.
Sign up for our newsletter
Hear about our upcoming events and read the latest success stories from our clients.