Back
France Pare-Brise leads with customer-centricity

France Pare-Brise
Explore what Goodays can do for you
Contact Sales
Or book a demo
The Company
The company France Pare-Brise (FPB) is the replacement and repair specialist in automotive glasswork and all the elements supporting visibility in vehicles: windows, optics, cameras, and, more generally, driving assistance.

Since its creation in 1993, France Pare-Brise has had a dual objective: to make life easier for customers by offering more and more services and to better meet
the needs of insurers. France Pare-Brise has made this objective a reality thanks to its network of more than 340 centres.
The situation
Customer delight has been at the heart of France Pare-Brise's activities for many years. Historically, the management of customer feedback was handled by the headquarters teams who would collaborate with the centres to reply to questions, incorporate suggestions, share praise or resolve issues. In the event of a particular question or a specific problem, the centralised service worked with the centre concerned to get back to the customer with an answer or a resolution.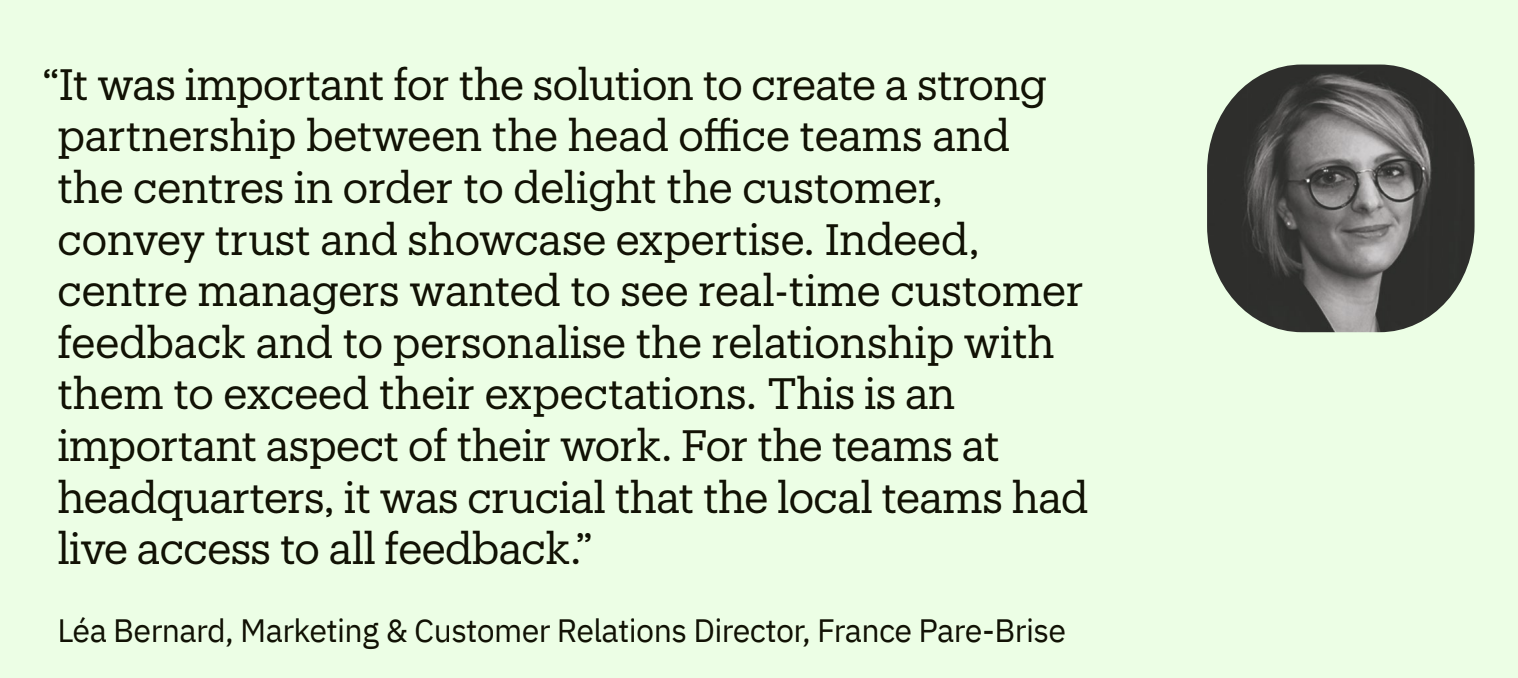 The Solution
France Pare-Brise chose Goodays to realise this customer-centric program designed to reinforce the connections between headquarters-local teams-customers. For France Pare-Brise, Goodays met all the necessary requirements for a differentiating customer-centricity program: an easy-to-use platform designed for the local teams, extensive features to measure the customer experience, native capabilities to share the results and use the voice of the customer online to boost e-reputation.
The results
Today, France Pare-Brise can collect and meaningfully address a much larger volume of customer feedback. The company has a real-time view of customer satisfaction to iterate on its customer experience strategy.

Data is communicated both internally, putting the customer at the centre of the business, and externally to promote e-reputation. Centres capitalise on customer feedback and share it with their teams, positive or not, to motivate
employees and for continuous improvement of the customer experience.
Discover and download the full case study below.

We're here to help you
Share the Goodays platform with your colleagues
Share the platform