Back
And the winner is... Celebrating the Proudest Store of 2022!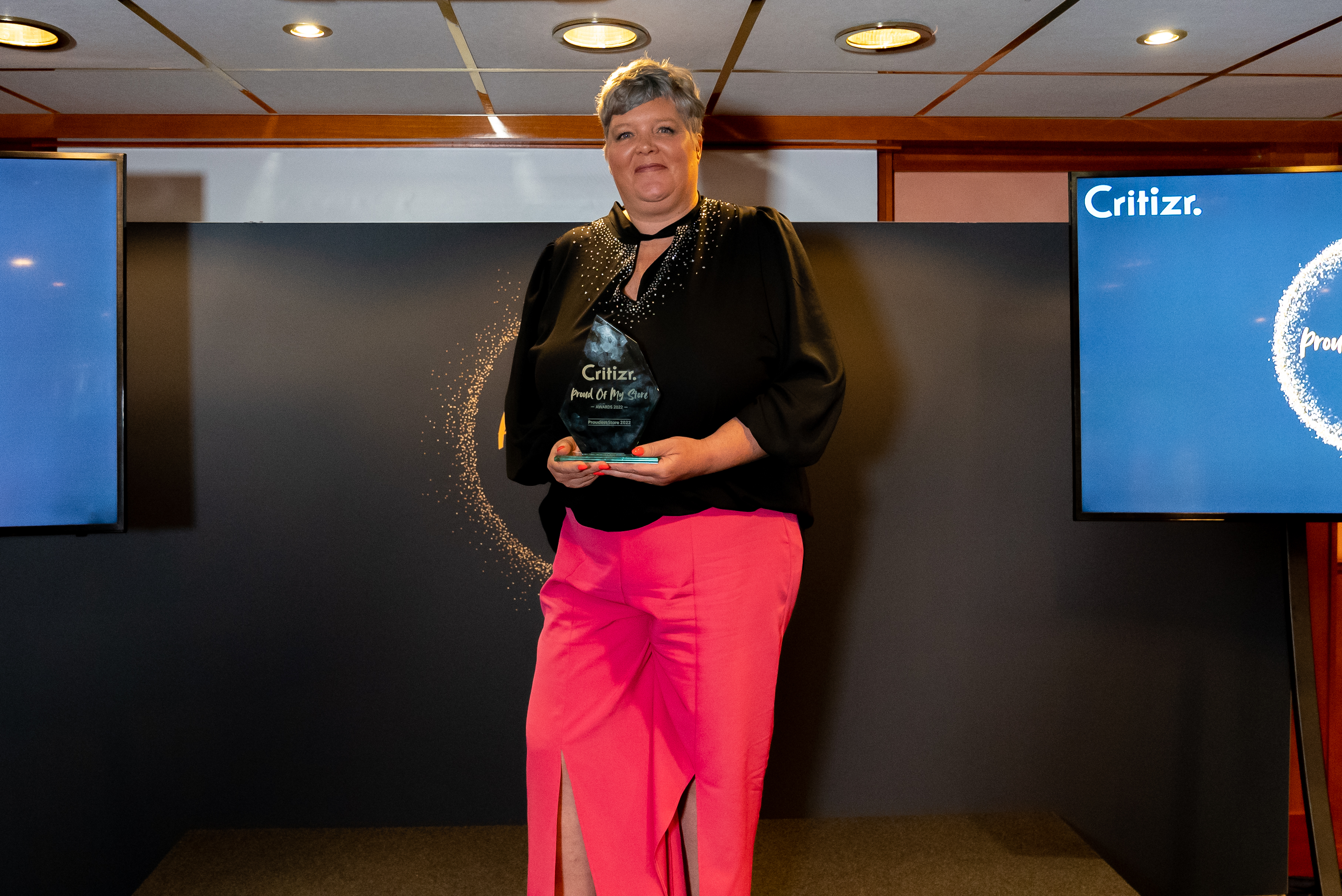 Rebecca Smith
Senior Content Manager, Goodays
They came, they saw, they did a little dancing – and boy, did they celebrate! Thursday, 22 September saw the teams behind Britain's Proudest Stores come together in the heart of London for a glittering evening of celebration and recognition.
The 2022 Proud of My Store competition saw almost 300 entries flood in from the UK's supermarkets, boutiques, pharmacies, high street names and small community shops, all rightly bursting with pride in their store, their teams and the communities they serve.
Over the summer, a team of expert judges – including last year's winner, Co-op manager Claire Saunders – took on the task of whittling down the entries to three monthly winners and honourable mentions. The tough task led to a tweak to the competition, as Hazel Morton, Head of Growth Marketing for Critizr, explains:

'We had originally planned to simply crown one store the overall winner as we did last year. But after reviewing so many amazing entries, we realised there were many more stores we wanted to recognise for their tenacity, team spirit, community focus and sheer hard work. It was wonderful to be able to recognise those stores on the night, celebrating qualities like Best In-Store Experience, Charity and Community Spirit and Customer Satisfaction.'
Before the prizes were presented, Proud of My Store monthly winners Serena Martinez (New Look South Shields), Jo Irlam (Pets at Home Rochdale) and Karen Coombes (Haslemere's The Original Factory Shop) took to the stage to share experiences with their peers in a lively debate, chaired by retail insights expert Jack Stratton. Then it was time for the nerves to kick in, as awards were presented to eight stores before announcing the Proudest Store of 2022.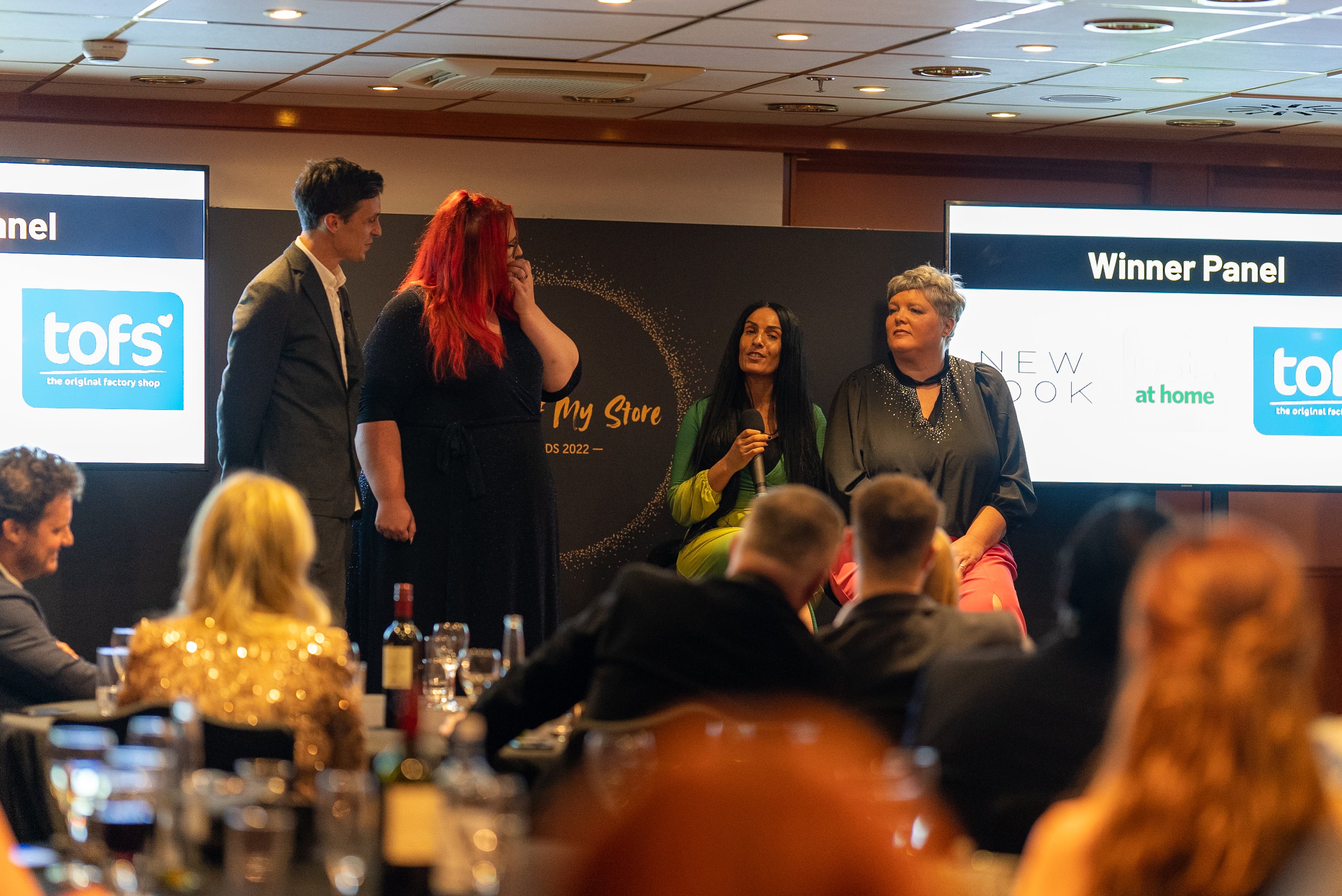 (The three monthly Proud of My Store winners take to the stage. (L to R) Jo Irlam, Pets at Home, Serena Martinez, New Look and Karen Coombes The Original Factory Shop)
And the winner is…
So who is the UK's Proudest Store? Take a bow The Original Factory Shop Haslemere, led by manager Karen Coombes, who received the prestigious Proud of My Store trophy and a cheque for £2,000 on behalf of her team.
Karen said: 'I'm overwhelmed to receive this honour. I've always said we are the smallest store with the biggest heart, and I'm so proud of the team and the work they've put in. £2,000 will do so much good in our community, and I can't wait to share this good news with our charity partners.' Karen aims to split the cash prize between her store's charity partners, Charity Kit Bag who promote mental health through sport, and their local Foodbank.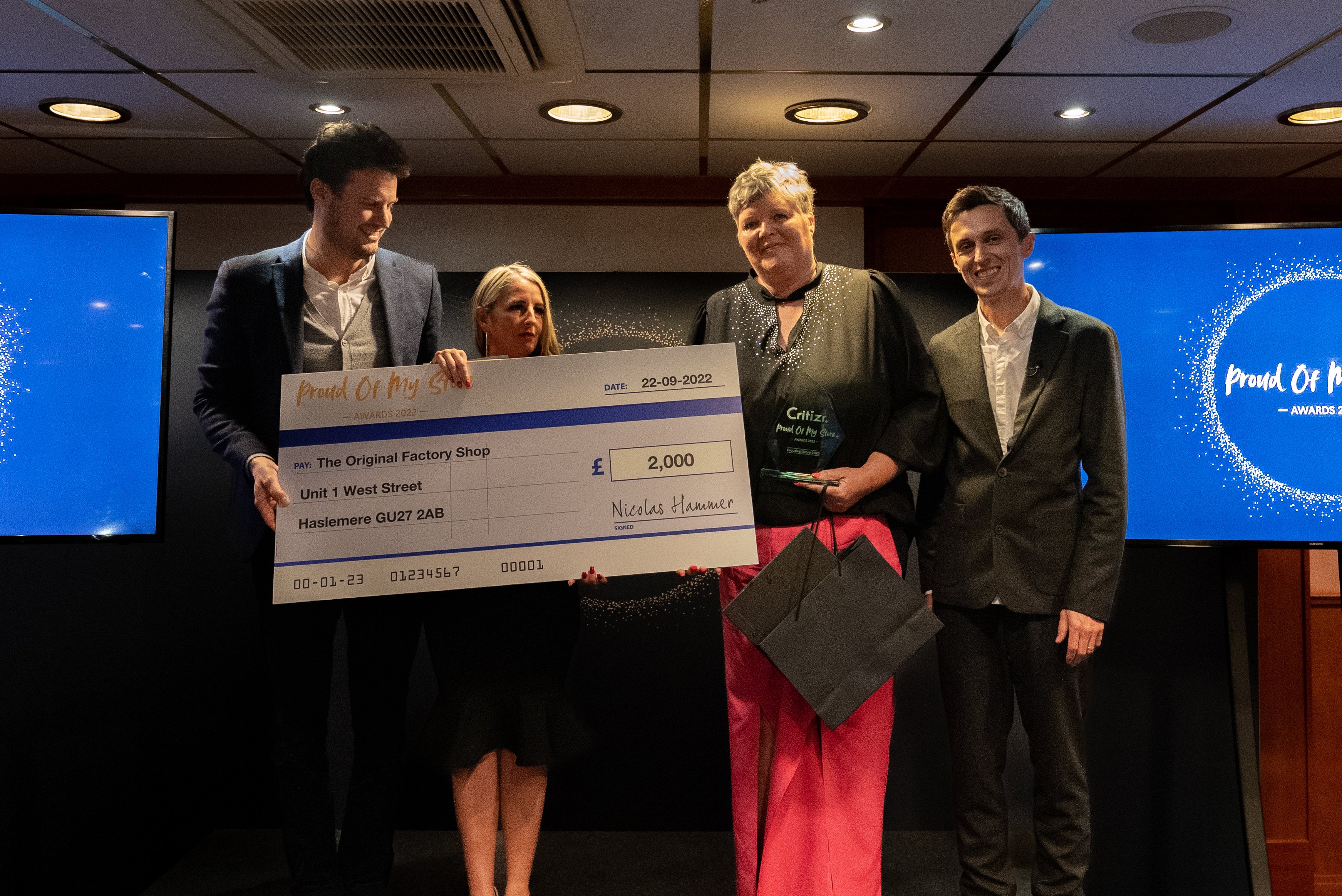 Critizr CEO and Co-founder Nicolas Hammer had the privilege of presenting Karen with her award on stage. He commented:

Karen's store is a masterclass in relationships – from staff to customers, from good local causes to other retailers; she's playing her part in creating a thriving community and is such a worthy winner. It was an incredibly tough decision to make, though – we received almost 300 wonderful, surprising, emotional and joyful entries for Proud of My Store. It was a privilege to read every one of them and to see the power of local in action in the UK's stores. I can't wait to see what 2023 will bring.'
Download our latest eBook: The Ultimate Guide to Store Success - a collection of Proud of My Store entries, including analysis by retail sector as well as geographical and semantical analysis.


Sign up for our newsletter
Hear about our upcoming events and read the latest success stories from our clients.