Back
So what if we're the smallest store? We've got the biggest heart.

Rebecca Smith
Senior Content Manager, Goodays
The June Proud of My Store winner has been crowned – huge congratulations go to The Original Factory Shop in Haslemere. We met with manager and nominator Karen Coombes to talk about how her team exemplifies community and team spirit – and to hear that size really doesn't matter when it comes to the impact local stores make in their community.


Karen – congratulations, you are June's Proud of My Store winner. How do you feel?
We are all thrilled and delighted – the whole team is buzzing. It's fantastic to get this sort of recognition for our work, but the best news is the donations we'll now be able to make to our local charities, the Community Kit Bag and our local food bank.

Tell me a little bit about the journey you've been on

I joined the store as the manager two years ago. We're the smallest Original Factory Shop and in quite an affluent area. Perhaps some people thought there wasn't a place for our store here, but I had a clear vision: to become part of the community on every level. Whether that's offering a great experience to my team, supporting local causes or working with our fellow retailers, I knew that if I wanted my store to thrive, I needed our community to thrive too. There's a lot of negative talk about retail sometimes – you know how can the high street recover, what about online, and I honestly believe the answer is simple. Put your store at the heart of your community. Take care of the people around you and they will take care of you.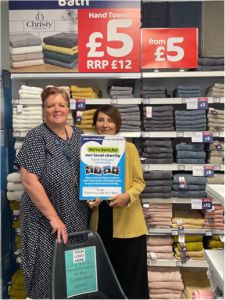 Store manager Karen Coombes

How did you put that vision into practice?

I started with my team. First and foremost, we invest in them. If they know what you need them to deliver, communicate openly, give them the training they need, and above all, role model the things you want to see, they will give the sort of service that makes customers come back again and again. It's a ripple effect: support your people, have conversations, give positive feedback, have competitions, and show up with a smile. And keep going!
As for the rest of my plans, I had amazing support from my regional development manager to try new things. One of the things I'm most proud of is that our approach to charity partnerships has now been adopted nationwide across the Original Factory Store.

That's an amazing achievement – tell me about your partnerships

My proudest achievement is our food bank drive – every single one of our stores now has a donation station. We also do Trolley Tuesday, where certain donation items are just £1, and the team tell all our customers about it; that's all about making it easy for people to donate. We have a partnership with the Community Kit Bag, which promote mental health through sport, and we have a men's mental health group that meets at a local café; we supply the tea and biccys! It all comes back to that ripple effect. Donating biscuits is such a small gesture! But it's also huge because it lets people know that we care about them.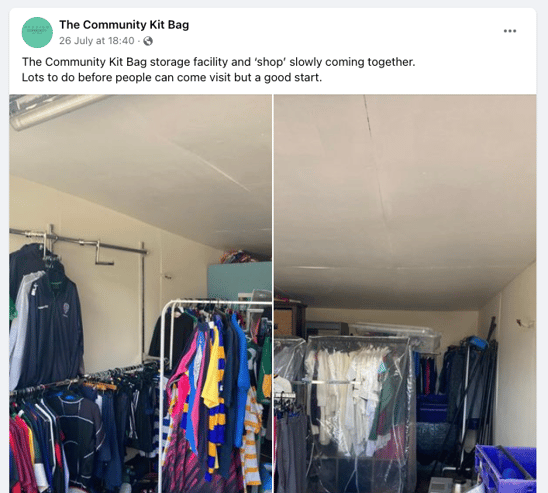 Photo Credit: Community Kit Bag Facebook Page.
You've also developed strong ties with your fellow retailers?

I believe in encouraging business for every business because a strong, vibrant, thriving high street is good for everyone. We invite small makers and businesses into the store to sell their items, we constantly refer customers to other stores, and we have set up local discounts – so if a customer comes in for balloons, which take a while to blow up, they can pop to the independent coffee shop next door, say 'balloons' and get 10% off their drink.

What's the secret to your success?

I think it's three things. First, listen to your people – what are they saying and, perhaps more
importantly, what are they not saying? Focus on what you can change and do it to the best of your ability. Second, show kindness. Businesses have a responsibility to give back – so what does that look like for you, your store, your team, and your community? Third, and most importantly, have a vision. Live it, breathe it, and show up daily committed to what you want to achieve. Inspire others to go on the journey with you. And never be afraid to chase your vision. After all, what's the worst that could happen?
Sign up for our newsletter
Hear about our upcoming events and read the latest success stories from our clients.