Back
How Store Managers of Grocery Giant Carrefour are innovating through WhatsApp

Rebecca Smith
Senior Content Manager, Goodays
"At Carrefour - in our hypermarkets and supermarkets - we have a long tradition of listening to our customers in a spirit of continuous improvement. The first wave of the Covid crisis has greatly accelerated the need for our customers to get in touch with their local shops, as easily and fluidly as possible", explained Stéfen Bompais, Director of Customer Experience Hypermarkets & Internal Communication France and Group at Carrefour.
For the past six years, Carrefour has integrated the customer engagement solution to take care of its e-reputation and respond to its customers' questions and complaints. Each feedback collected is an opportunity for the in-store teams to enter into conversation with customers and improve daily customer experience.
Being present where the customers are
In recent months, the retail giant has taken the digitalisation of customer interaction a step further by introducing WhatsApp. The messaging application was added to the twenty or so channels already available in the Goodays platform.
"I do not have a strong belief in WhatsApp per se. However, what is certain is Carrefour's belief that we must be present where the customers are. Today, we exchange with them on WhatsApp. Tomorrow, we may do so on Twitch or another social media platform. As a retailer, we need to humanise the relationship with our customers, just like a local shop. In this sense, new technologies allow us to build a lasting, solid, almost empathetic relationship with each of them," said Stéfen Bompais.
Customers need a closer relationship
Nearly 226 Carrefour hypermarkets are now equipped with this innovative technology. Initially, Carrefour presented the project to the teams and identified the employees with the best appetite for the tool and the best expertise to handle conversations via WhatsApp.
"This required support and a response to the volume challenges and the need for responsiveness, but the decision was made very quickly because the interface is easy and our employees already use Goodays daily," said Stéfen Bompais.
Since the introduction of this channel, 30% of customers who have posted a comment have done so from WhatsApp. In the first 30 days, 8,142 conversations were initiated between the teams and the customers.
"This is not a neutral result. It means that customers accept that their exchanges with Carrefour teams coexist with their personal conversations. This is proof that they need a close and affectionate relationship."
Customer Conversation Insights
Through these initial exchanges, Carrefour has identified three typologies of conversations.
1. Sales support.
For certain products that are likely to be out of stock, the customer contacts a shop to find out about the availability of a product and have it put aside.


2. Creating an emotional bond.
An 88-year-old customer sent a message to staff thanking them for their empathy and proving that new technologies are not just for the younger generation.
3

.

Strengthening proximity.
For its best, most loyal customers, Carrefour delivers birthday packages. Some customers have sent thanks on WhatsApp, along with a souvenir photo.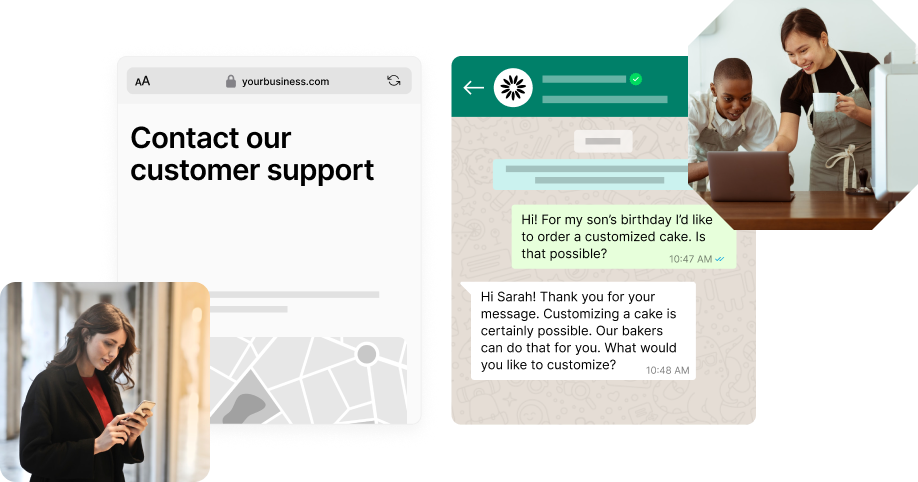 "When you decide to enter into a conversation with a customer, you have to do it with your heart. And I must say that the teams surprise us positively. That's why we want to make sure that the shop managers, not the remote customer service department, are the ones who talk to the customers. These managers themselves take care of identifying two or three people with the right skills to provide the best response," said Stéfen Bompais.
Digital is a conversation accelerator
This new initiative between Carrefour and Goodays is part of a more extensive, global strategy. By 2026, the group's ambition is to become the world leader in digital retailing and make digital the engine of its growth.
"Commerce is omnichannel now. This is why we have developed many services in the last 36 months: accelerating delivery and the drive, optimising e-commerce platforms, increasing the online food offer, developing the marketplace with major operators, creating the Ok Market service, etc. The aim is not to pit digital against physical, because customers will always need and want to go to the shop. We win the battle when we are in the 'phygital' and when we make the channels meet. Digital is simply an accelerator, especially of conversation. This is why we give access to the Carrefour brand wherever the customer is and whenever he needs it", concluded Stéfen Bompais.
Join the future of Conversational Commerce:
Are you an existing Goodays Connection user and want to innovate with Conversational Commerce? Speak with your Engagement Manager today to book an Innovation meeting with our Founders.


Not familiar with Goodays and want to demo our world-leading customer interaction platform? Book a free and friendly demo here.
Sign up for our newsletter
Hear about our upcoming events and read the latest success stories from our clients.