Back
Digital tools to increase customer footfall in DIY, Home or Garden stores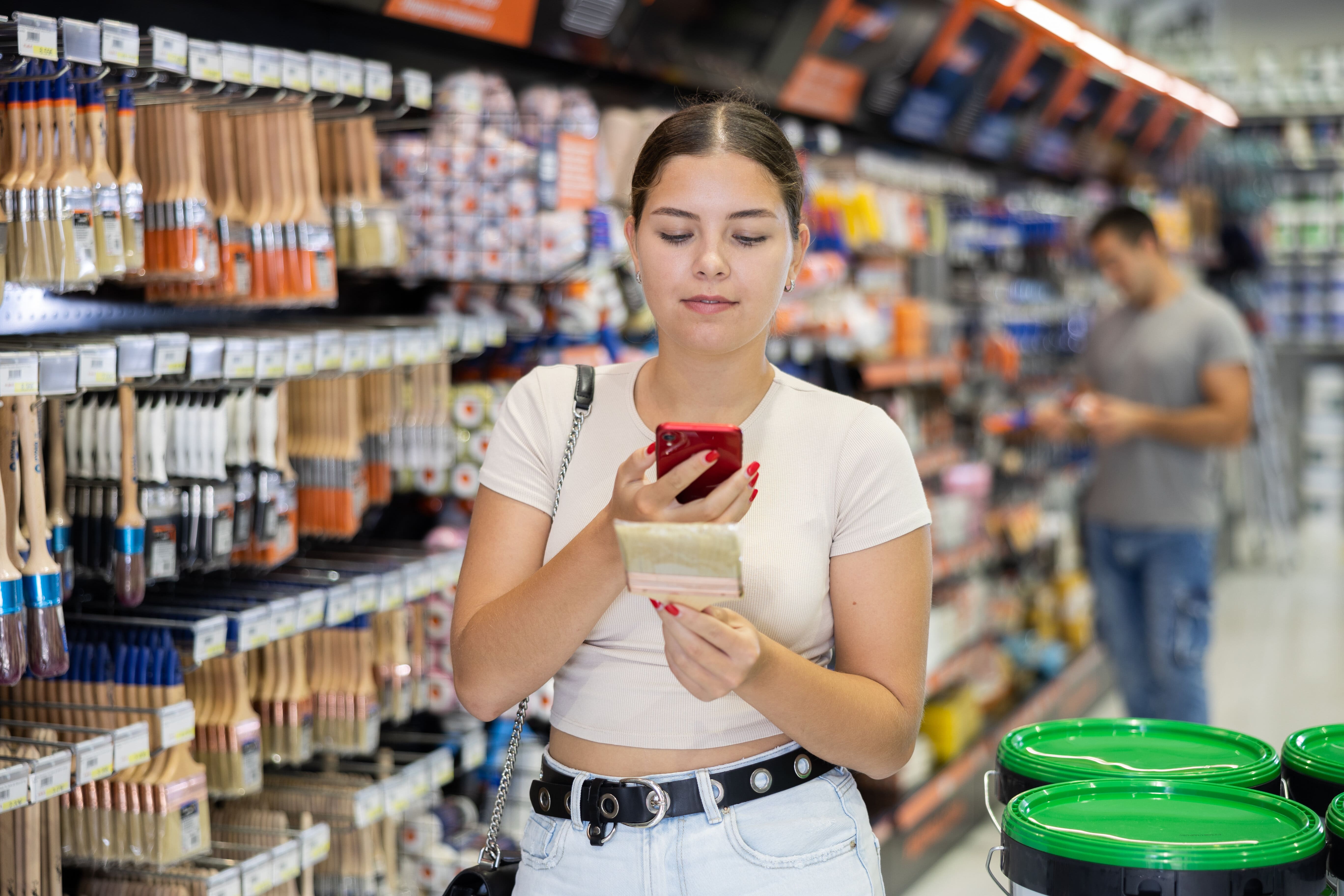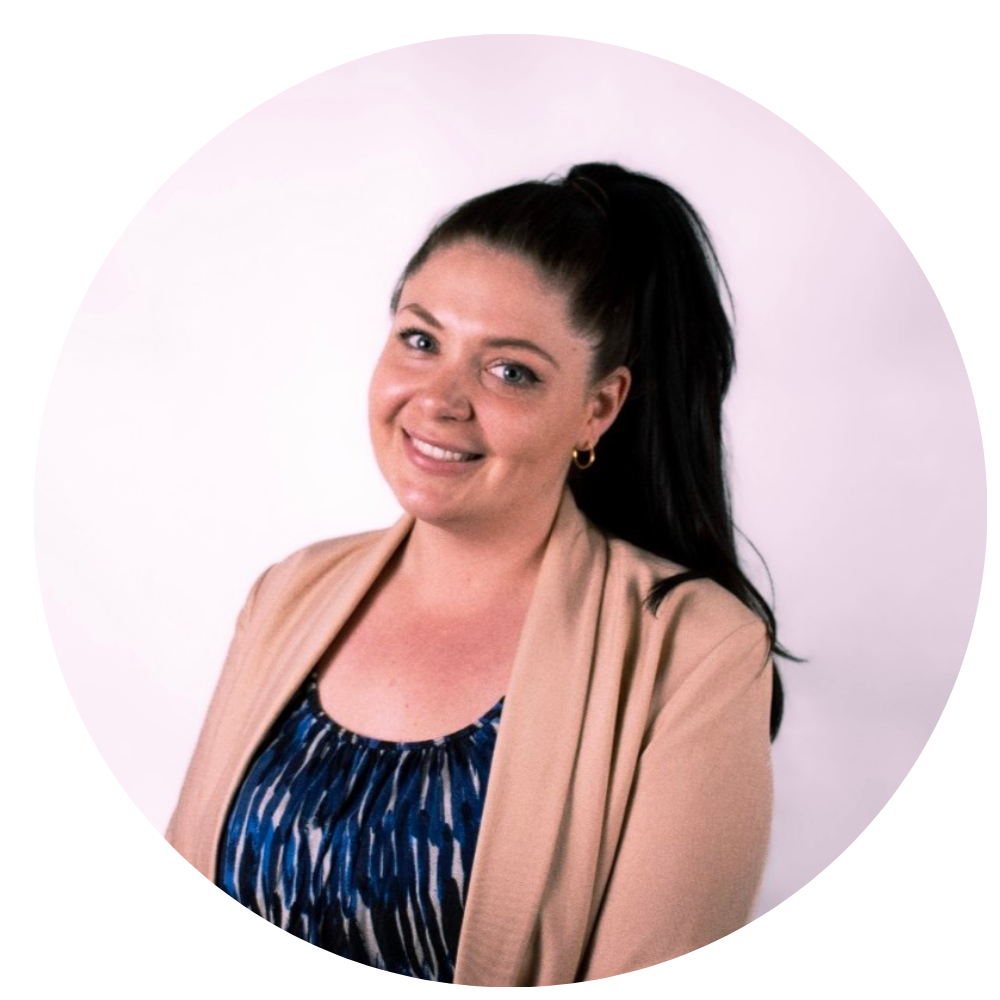 Rebecca Smith
Senior International Marketing and Brand Manger, Goodays
Your DIY store looks great, and your teams are ready to spring into action – but a large percentage of your customers are buying from Amazon. Sound familiar? The rise of online shopping has been well-documented, but in today's omnichannel world, moving away from an either/or approach is vital.
And, of course, on top of online rivals, you also have brick-and-mortar competition for your customer's attention. If a customer needs tools or resources for their DIY or Garden project and needs to pop into a store quickly, how do you ensure they choose to visit your store over your competitors?
Consider the hyper-local power of digital as simply another way to funnel engaged, ready-to-purchase customers straight to your shop floor with these simple ideas.
Get to know the Google My Business tool.
Google My Business (GMB) is a free, powerful tool that helps customers find individual, local businesses online that fit their needs and are physically close to them.
When it comes to GMB, first get the basics right – check your store listing is up to date and complete with things like address, phone number, opening hours and a brief description. It's also worth checking the map locator to ensure potential customers aren't getting lost!
But that's just the start of GMB's powerful – and free – functionality. You can add photos and videos. You can post about events, products and sales. Customers can leave reviews, ask questions and send instant messages.
GMB is a tool for building meaningful relationships with prospective customers, enticing them into your store by putting the power of local connections into your team's hands. Via Google Business Messages, Customers can now get in contact with businesses directly from the Google search results in real-time. Businesses can answer questions, provide suggestions, advice or locally relevant information, and ultimately attract more customers.
How to utilise Google My Business better than your competitors
The key to unlocking GMB? Find a platform that helps you integrate it into the daily routine; this is not the time to route queries to a central HQ social media team.
A recent YouGov survey found that 69% of customers thought it was important for stores to be connected to their local customers, with 56% saying the speed of response to an online review would affect their decision to return to the store.
Consumers want local, personal service right now. Not to be stuck on a call with your customer service department. In fact, 67% of people would rather message a business than speak with a person on the phone.
The Goodays platform was one of the earliest tech solutions to integrate with Google's Business Messages in Europe. It enables customer-facing store teams to converse with local customers directly from search results, easily reply and engage in real-time and display all interactions and conversation types (not just Google, but from all channels) on one single interface hub.
Sort through the customer stats.
Tracking customer behaviour on your brand's website is an integral part of any HQ digital team's brief, but Google is also a rich source of local insight. It can tell you how a customer found your GMB profile and what they went on to do with that information – and understanding this insight can make a huge difference to footfall.
For example, we've just seen the start of a new academic year; your central marketing team have probably worked hard on a crop of TikToks to inspire this year's Freshers to personalise their new student bedroom cheaply and safely. That will have led to a surge of searches for local stores, taking potential customers to your GMB entry. You can look at that data to understand 'what happened next' and act accordingly. For example, did customers message the store? Did they click away after finding an empty GMB profile? Or were they greeted with a linked post and video, with a helpful staff member on hand to answer their queries?
You'll find all this information directly in the Goodays platform, in the "Google Statistics" tab: you'll have access to the evolution of your Google rating and the number of reviews, as well as visitor data (number of views, itinerary requests, calls, site visits), and more. These insights will enable you to act locally on your customers' experience!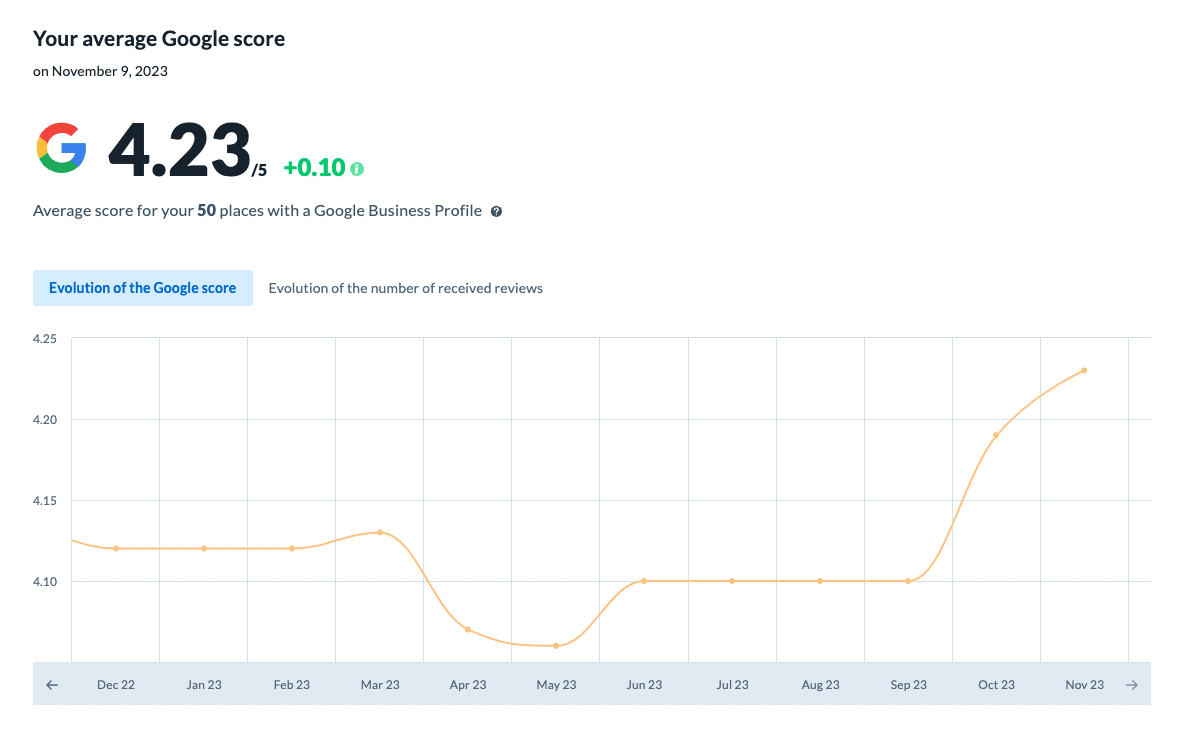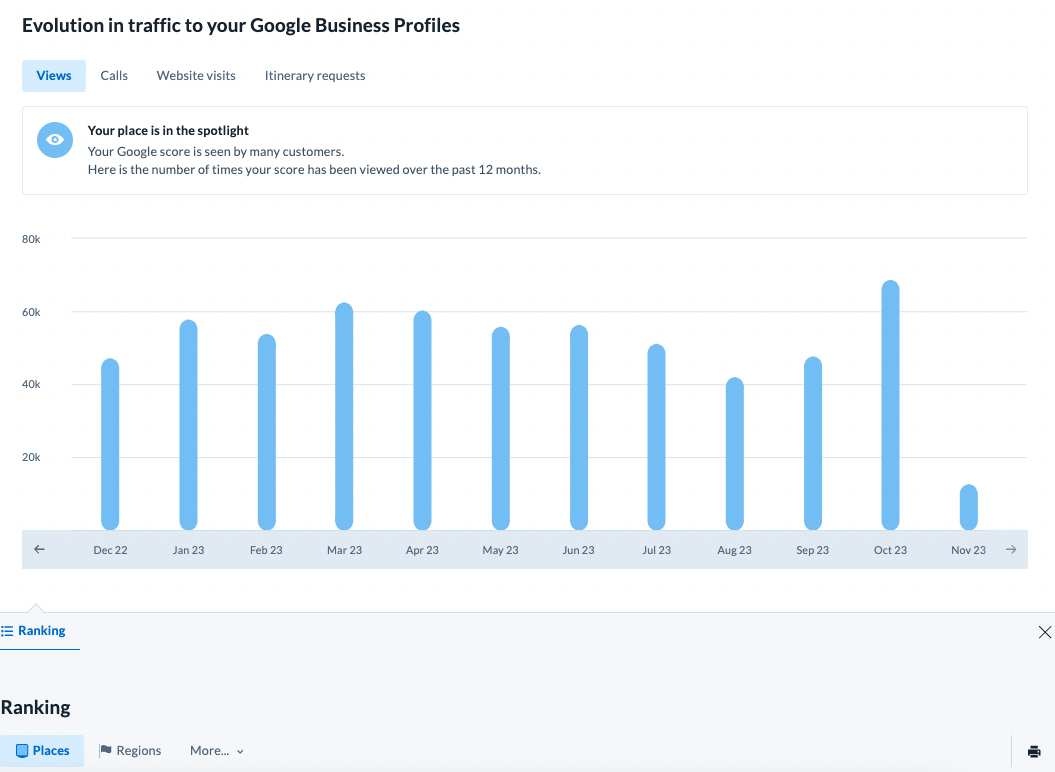 Check out the competition with competitor Google benchmarking.
Mystery shopping is a foundational management activity; digital mystery shopping can be even more compelling. It's particularly useful for pricing and simply 'getting a feel' for what's happening down the road. Read local competitors' reviews and act accordingly. If they're always running out of compost in the summer, adjust your stock levels. If they get negative feedback for having grumpy staff, focus your training on offering a warm welcome. You can even set up Google Alerts for price-sensitive products or categories – particularly useful for cementing relationships with notoriously cost-conscious trade customers.
Competitive benchmarking is a unique feature offered by Goodays. By aggregating Google data (rating, number of reviews) from your competitor stores, you can track and compare your performance within your geographical perimeter. The "Around you" tab gives you access to an interactive map with a ranking of your competitors' stores in your catchment area. The ranking is based on your store and 20 competitors in the surrounding area. This benchmark is an invaluable tool for analysing your position in relation to the competition and adjusting your aim if necessary.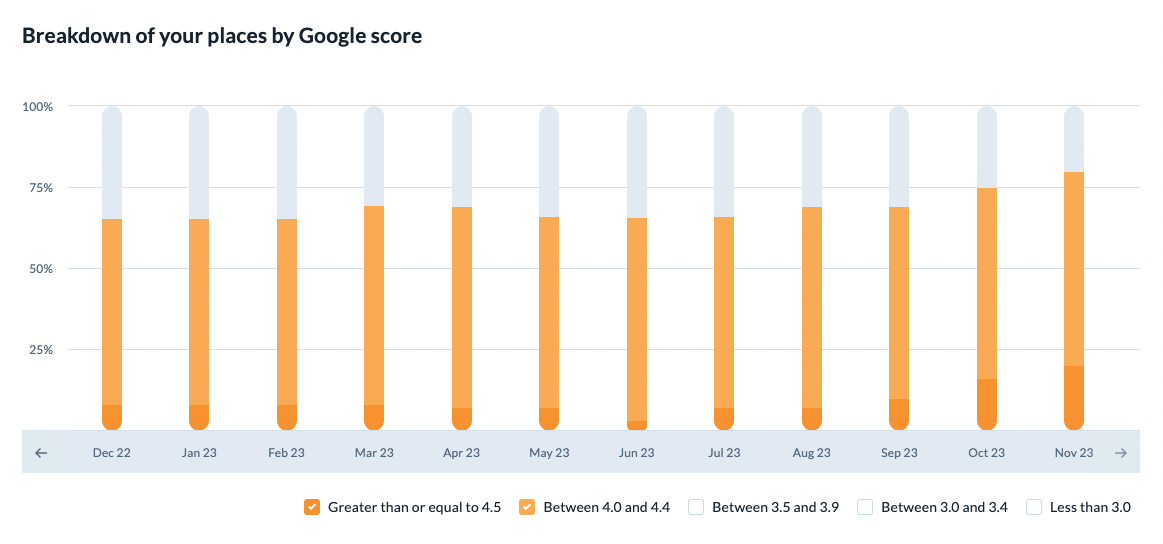 Think about redirecting Google reviews.
As you can see, Google is a showcase for your store. That's why you need to pay particular attention to your Google listing, making sure you maintain a good volume of reviews and a good rating.
At Goodays, we aggregate Google reviews so you can manage all your customer reviews on a single platform. But that's not all: Goodays also encourages your satisfied customers to post their reviews on Google Reviews. This helps generate more positive comments and thus improves your rating! Why is this important? Because it's also a way of standing out from the crowd in your catchment area.
Finally, engage your team.
This kind of digital activity isn't something that can be allocated to a specific team member within a dedicated timeslot. Making the most of your digital presence means the team needs to be 'always on' and make managing Google reviews part of your daily routine. That means using the right tools and platforms to help everyone integrate digital communication into their daily routine – it's not about taking someone off the floor; it's about making digital capability accessible all over the store. Trust us, the results will be well worth the investment!
Sign up for our newsletter
Hear about our upcoming events and read the latest success stories from our clients.