Back
What are the top 3 things customers want from brands in 2023?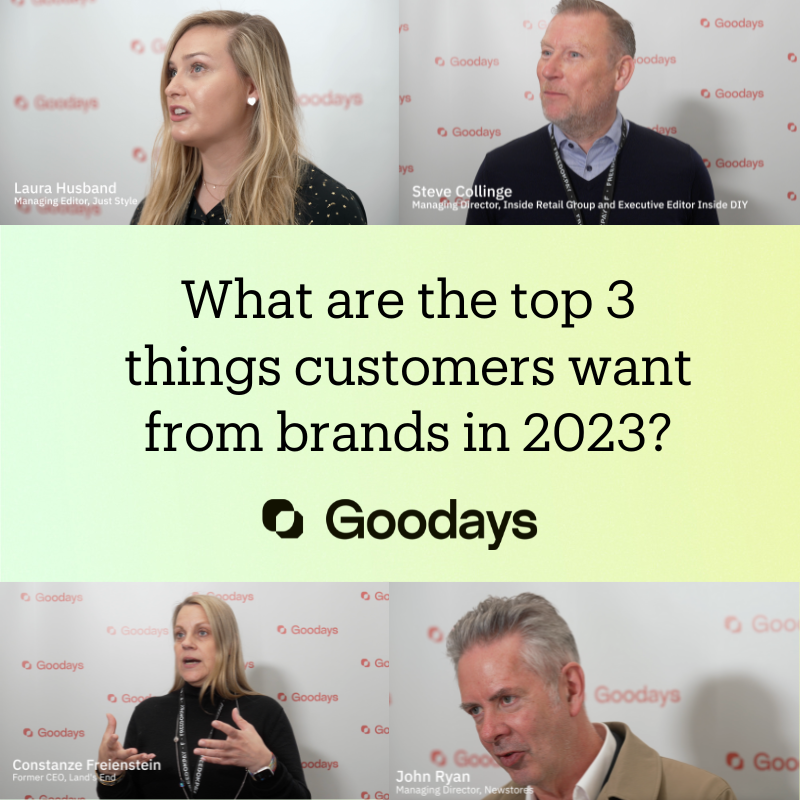 Rebecca Smith
Senior Content Manager, Goodays
Continuing our series of reports from the Retail Technology Show, we hit our expert guests with the toughest question yet...
What are the top 3 things customers want from brands in 2023?
(Scroll down for the video 📽️)
Value, value, value
There's no escaping it: in today's tough economic climate, consumers crave value for money from the brands they love. But that shouldn't ever be confused with 'cheap', as John Ryan, MD of Newstores, was quick to point out:
"Anyone can do low price, and it doesn't necessarily mean good. [Consumers are] looking for value, and they're probably looking for something that's just a little bit off-kilter, left-field; something that's interesting."
Natalie Fresen from the People In Retail Awards agreed. "We work hard for our dollars, right? So value is really important."
Deliver engaging experiences
In our first report from Retail Tech, our experts stressed the power of physical retail spaces to deliver unique, inspiring customer experiences. They returned to this theme when discussing consumers' wants and desires, with Camilla Tress, Connected Commerce Lead at Oliver Bonas, reminding us of the importance of brand experiences. "… People want to feel that they're appreciated, that they are listened to and that the brand will actually engage with them and respond to them when they have needs and requirements. People are looking for community, aren't they? Unless you're buying a felt-tip pen from Amazon, what you want is to engage with that brand and feel like they're listening."
Pitch-perfect multi-channel touchpoints
Once you've created the experience customers crave, it's vital to make it consistent across every channel and touchpoint. And according to our experts, 2023 is truly the age of omnichannel retailing. Customers want brands to be exciting, hassle-free and seamless, no matter how they approach them. As Akbar Karenga, People and Talent Director at LiSA said:
"[Customers] want to avoid friction. So if your website loads in three and a half seconds – that's going to hurt. They want to be making decisions in the moment. So look at your customer journey… really focus in."
Watch the full video below.
There's still more to come from the Retail Technology Show when we find out the people and brands that most inspire our guests, as well as lifting the lid on the last time they had a really good day in retail!
Stay tuned 🧡
Download the latest Guide from Goodays below:
Sign up for our newsletter
Hear about our upcoming events and read the latest success stories from our clients.