Back
Reinventing the physical retail experience

Hazel Morton
Head of Growth Marketing
Shops have shown their transformational mettle during COVID-19. Change may have been forced upon them, but their response was agile and inventive, adapting quickly to meet new customer needs and preferences. But what's next? Can retailers continue this positive reinvention to re-frame the physical retail experience for customers after COVID-19?
We take a look at the steps retailers are taking to re-invent the customer journey:
Customer obsession
No matter what the experts predict, there is only one source of insight that your business can truly rely on. And that's your customers. The lingering impact of COVID-19 guarantees that people's shopping habits are not going to settle down any time soon.
| | |
| --- | --- |
| The Body Shop are actively asking their customers about how their shopping behaviour has changed and what they want from their in-store experience. | |
Businesses must be alert, listening and tracking customers 24/7 and making changes to store formats, staffing and service accordingly. Don't wait around for trends and predictions: the information you need to build a better physical retail experience can be found in the daily views and feedback of the customers coming into your store.
Excelling at the basics
A lot has changed, but at the heart of the physical store experience, there is still a set of mandatories that your customers want: good service, convenience and a pain-free shopping process.
Today that means a well-considered store layout, screens and signage to comply with safety and social distancing rules. Tesco put together a great advert explaining to customers the changes they have made:
Every retailer now needs exceptional standards of cleaning and hygiene, contactless payments and hand sanitiser at the very minimum.
By capturing and acting upon opportunities in real-time to better serve customers – such as managing queues or deploying extra staff - you'll ensure you customers appreciate the basics.
Deploying technology
Technology has been a hero of the pandemic, allowing people to work, shop and socialise in new and innovative ways throughout lockdown. There are many ways for retailers to build a better customer experience by making their physical stores more 'tech-enabled'.
| | |
| --- | --- |
| Dunelm are using QR codes, digital interactive content and augmented reality to bring their products to life and allow people to shop their extended ranges. | |
Both Sainsbury's and Asda have been testing out virtual queuing and Sainsbury's have also been expanding their Shop Smarter app to skip the queues in-store by scanning as you go. Marks and Spencer have also expanded their mobile Pay Go service through the M&S app to help minimise contact, increasing from 100 to 310 stores. This expansion is part of their 'Never the Same Again' programme to transform into digitally connected stores.
Asda are also the first UK supermarket to trial a permanent trolley wash facility. The water-less solution uses electrostatically charged mist to sterilise handles, rails and child seats, leaving them clean, dry and ready to use in 10-15 seconds.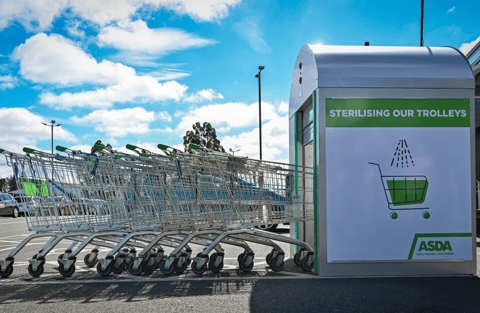 Technology enables the blurring of the in-store / online experience and brings a new dimension to engagement and the physical customer journey.
Thinking omnichannel
Social distancing and face masks impede levels of staff interaction in-store, meaning these conversations increasingly take place online. Make sure that the physical and digital sides of your business are seamlessly blended, and that staff understand the full omni-channel customer journey.
Currys PC World has created a function to cross their channels leveraging their in-store teams to connect with customers shopping on their website through live video chat where a customer can interact with the advisors and be shown the products via video call. Similarly, John Lewis are adapting some of their store-based services to be accessible from home, by introducing one-on-one consultations with experts.
Even retailers like Aldi, whose online offering only encompasses their wine and special buys, have looked to create partnerships, rolling out home delivery using Deliveroo.
Behaviours such as 'web-rooming' - when customers research online and buy in store, and 'show-rooming' - when customers come in-store to gain more information and education on products before online purchases have changed during COVID-19. Ensure your staff have a clear understanding of these shopping behaviours and what customers may want when they come into a store in person.
Adapting locally
COVID-19 responses and restrictions differ across cities and regions, and they will continue to fluctuate. During the pandemic, we've seen community spirit and localism has been heightened, there has never been a more pressing time to adapt regional outlets to suit the needs of local customers.
Nisa Local Heysham partner James started up his own delivery service for the local residents, promising to deliver with 30 minutes. He initially took orders over the phone, before setting up an order system via their Facebook page.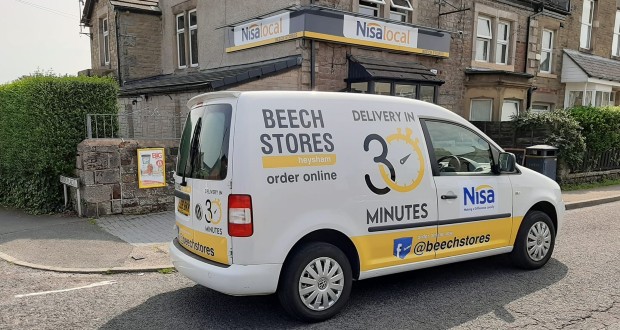 Don't wait for localised problems to create customer frustration. Connect local customers with store teams so staff can be quickly deployed to solve issues and capture opportunities to impress customers with their excellent customer service.
Build your brand
During the pandemic, brands have been subject to scrutiny of their actions, with both the public and media heavily magnifying any mistakes. But some brands have got it right, a study by Campaign live has named Tesco as the brand perceived by the public to have made the most positive contribution.
Others have also taken action by supporting community projects. The Spar realised the increased need for food donations so created dedicated stands to collect donations in-store.
Supporting local communities will build your customer relationships and shows a compassion for local issues - which customers increasingly want to see from the brands they shop with.
Bring staff with you
Don't forget that these are huge changes for everyone in the business, but frontline retail staff are the people who will feel the impact most. Their working environment and daily routine will be different, and they need to be fuelled by a positive vision and sense of purpose to best serve customers. Make sure they know their value and understand the critical role they play in the customer experience by empowering them with local customer insights and channelling positive customer feedback their way.
Transformation of the retail model was already underway before COVID-19. But the pandemic has accelerated its pace to a terrifying speed, propelling the fate of physical retail onto the front pages.
And yet, there is reason to be optimistic. Shoppers are returning to stores, but their expectations are high. It seems that an engaging, personal brand experience in the real world is something that customers still crave. Make sure you adapt for the new retail journey.
To help understand the changes to the customer journey, download our latest whitepaper that reveals the New Retail Journey according to 114 European retailers:
Sign up for our newsletter
Hear about our upcoming events and read the latest success stories from our clients.